Interview: Diego Luna And Gael Garcia Bernal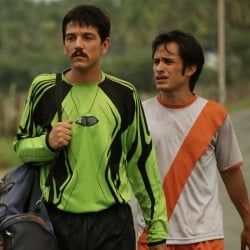 There have been more famous onscreen duos in screen history, and even some of them have been friends in real life, but few are as fun to watch together as Diego Luna and Gael Garcia Bernal. The two broke into stardom in 2001's Y Tu Mama Tambien, when both were around 21. Now in their 30s, with families of their own, they've reunited for Rudo y Cursi, a dramedy about two brothers from a rural community who become soccer superstars, each handling fame in equally poor ways.
Luna and Bernal walked into the roundtable interview dressed alike-- I swear to God-- though I don't know if it was on purpose. Ribbing each other and occasionally translating each others Spanish, they talked about returning to acting after making their own films, their continuing partnership through Canana Films, and which one of them would win in a penalty kick. Read it all in the interview below.
What's it like to work together again?
Bernal: It was very nice to work together again, no?
Luna: Was it?
Bernal: As actors. We've been putting up our production company called Canana. We've been helping films get made, and also we have a documentary film festival in Mexico. It's really original. It's called Ambulante, and it's a film festival that travels around several cities in Mexico. And what else? We've had our projects also. We've been ping-ponging projects. For example, when Diego is going to act in a film, or I'm going to act in a film, we talk about that.
Luna: It was nice to be just actors again. It was nice just to be thinking about characters, about the scenes and the relationship of the characters, and not to think about money, or what was going to happen, or what was not going to happen. When you're an actor they protect you as much as they can.
Since Y Tu Mama Tambien you've both become directors. Have you noticed how that's change your dynamic on this film? A better awareness?
Bernal: We're more aware of what's happening, how can we anticipate certain things and make things better, easier. I think in this film in particular, we had just finished post-production on the films that we directed, so we were incredibly tired and incredibly thankful that we were going to be just actors on this film. Nevertheless we got on the set and couldn't get away from that dynamic of directing.We wanted to be in every single aspect. I think at the end of the day that's great for a director, to work with actors who wants to be part of the whole thing, and participate.
Luna: I think Carlos was really happy also to have us as part of it. He invited us from the beginning, when he said 'I have a story, and the story is about two brothers, and the context is football, and it's the story of these two guys and how their lives change.' And he said 'I want you to commit to the project so I can go and write it. And I want to invite you to read everything I'm writing, and give me stuff and work together.' We were part of this from beginning to end.
Since you know each other so well, do you even have to work at creating these characters? Also, Carlos told us that at the beginning there was a little dust-up about who wants to play who.
Bernal: That's a mythology that he wants to believe. Just by repeating, he already convinced himself that that's a reality. No, we had to work a lot to get the characters going, just in the sense of building up the world of the characters. Some of you might speak Spanish and maybe you can notice that the characters have a certain accent and a certain physicality, there's a little color that's very different from what, let's say, the people from the big city in a way. What we wanted to play was to build up this character as the characters, pretty much. Give them a strong accent, give them a sense of being from the same family. And for that we rehearsed a lot.
What are the most important things that you've learned from each other that have helped make you a better person or a better actor?
Bernal: In terms of work, obviously acting is such a job that is very in the flesh kind of thing. It's your work, but it's your life, in a way. You can get so mixed up. I would say that I learned something that I admire a lot from Diego, that he's capable of having a good time in any situation. That has inspired my approach in the acting sense, but in life also. I want to do work, but I also want to have a good time, in the same way that he has a good time. Luna: Every time I'm about to hit a wall, there's Gael telling me 'There might be a wall.' I've learned the commitment and the amount of introspection he goes through before even choosing to be somewhere. It has taught me a lot.
A lot of the tension in the film revolves around a penalty kick. Between the two of you, who would win in a penalty kick?
Luna: Ahhh. Wait a second. The way it's set, definitely Gael, because I'm the worst goalkeeper. The thing is none of us is a goalkeeper, so you'll never know. But I can tell you one thing. Sometimes for luck, sometimes because I am a better player, I score more goals than Gael.
Bernal: It's true. Statistics say that. But who gives him the passes?
Luna: The beauty of football is that it's about 11, and another five at least are sitting outside. You cannot get competitive.
Bernal: Fortunately we support the same team. That was a turning point [in our friendship], our affiliation to a football club that we support throughout. We went to a football game in 1991. We were only 12, and we went to see the final where Pumas won against America. It was a big turning point in our lives. We arrived four hours before to the match, we were the sixth people to go into the stadium. We were really excited, we were very young, and we had looked for the tickets ourselves, we had done all the work for ourselves. We stayed through the whole celebrations after, for hours.
What's your approach to acting when it's comedy?
Bernal: With the acting, well, this hybrid, this is a very Cuaron-esque sort of approach. You can see that also in Alfonso's movies, even Harry Potter or Children of Men. He combines this strong criticism, or strong dissection of philosophical aspect of society, yet at the same time it's full of a sense of humor in a way.
Luna: In this kind of film, what Carlos wrote, you don't think about the comedy. It's not as if it's written as if one line makes you laugh and the next closes the joke to make a new one. It's not jokes put together in a scene. It's just situations that become so funny because they're so real, and that's the first thing. In fact there are plenty of moments that the first time I saw it with an audience, I wanted to tell people it wasn't funny. I remember in Y Tu Mama Tambien, in that scene where he stops the car, he comes out and shouts at me, spits at the window.
Bernal:[Audiences thought] it was the funniest thing ever.
Luna: When we were shooting it it was like a funeral. It's one of those things where you wake up and say 'Fuck, I have the tough scene. Shit. Let's get ready, concentrate, think about what you want to think.' Same when I shout at him in the room. Then when we saw it with an audience everyone was laughing and laughing. They couldn't hear what we were saying. It was like, so un-respectful. You should be crying here! And I guess that's the Carlos touch, how he writes. Everything is there from the beginning on the page.
Bernal: That's what maybe makes the comedy universal. It's not about the punchline. The whole thing is very strange. It's very actable also. It's not easy to act, but to direct to act. It goes form one place to the next. It's not heading for the punchline, and also it's not about scoring goals. It's about passing the ball, and the goals will come by themselves.
Staff Writer at CinemaBlend
Your Daily Blend of Entertainment News
Thank you for signing up to CinemaBlend. You will receive a verification email shortly.
There was a problem. Please refresh the page and try again.