Interview: Eva Mendes And Debi Mazar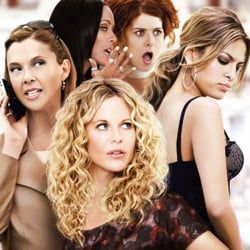 Eva Mendes and Debi Mazar call themselves the shopgirls-- two of the characters in The Women who don't quite fit into the moneyed, successful world inhabited by the movie's main characters. People like Meg Ryan's Mary Haines, who discovers that her husband has been cheating on her with Crystal Allen (Mendes), a "spritzer girl" at Fifth Avenue.
While Mendes and Mazar's characters may not have fit into the world of the rest of the cast, they happily say it's different in real life, as they do press tours with the women they may have only had fleeting scenes with onscreen. It's also worth nothing that, when Mendes walked in the room and spied a journalist's chocolate chip cookie, she absolutely had to have a bite. You've got to love a movie star who isn't afraid to get her dose of chocolate too.
Tell us about slipping into Joan Crawford's bubble bath and high heels.
Eva: I knew that by accepting the role I was going to get a lot of criticism about it. I knew that I was not going to try to please anybody. And of course I was not going to try to emulate. I mean, she's Joan Crawford, for God's sake. Once I felt like that, the pressure was off. Diane and I came up with a different spin on the character. We made her a little more desperate, not as vixeny. And I think a little more pathetic.
What would you tell people about working with an all-female cast?
Debi: The press junkets are really fun. We all worked in separate scenes with different actresses, and we were surrounded by a lot of male crew.
Eva: We had men around. When we needed them, they were there.
Debi: It was 36 days to shoot a movie. So we basically already came into the movie in our characters. It wasn't like we had time to discuss our periods, and sit down and clink our glasses, what shaving cream we were using. We had to do our job like any other movie.
Do you feel like you have to represent Latin people with this character?
EvaOh God, that's too much to worry about. Just by working with amazing people. I push myself, and I challenge myself in different ways-- I can't worry about representing Latin people the whole time. I think being an individual like I am, that's representing Latin people. It's got to be more personal than based on what anybody else is going to think.
How did you feel when you went home each day?
Eva: It was fun! This was me and the girls, this was me being fearless. It takes balls to play a character like this. I have to be OK with people not liking me. I went to the premiere. I saw peoples' reactions to me. If they had tomatoes, they would have been throwing them at the screen. I really had fun.
Would you ever date a married man?
Eva:Are you crazy? I have an attraction to men who are graying at the temples and whose last names are Clooney. But certainly nobody who's married.
What are you up to next?
Eva:I have a big comic book film called The Spirit up ahead, with Scarlett Johansson. Scarlett, who I love dearly-- I did a job with her, my second job in the business, this wonderful film [Eva shakes her head no, indicating it wasn't actually so wonderful] My Brother the Pig. I was 23 and she was 13, and I played her and her brother's nanny, and I turned her little brother into a pig. Just because that's what happens to me sometimes! Anyhow, we've both moved on to much better things. But it was a really nice reunion with Scarlett.
How's the movie?
Eva:The movie looks spectacular. I play a jewel thief who's been married 15 times, and has killed each and every one of her husbands. When do you get to play that?
Your Daily Blend of Entertainment News
Staff Writer at CinemaBlend