Interview: Matthew Broderick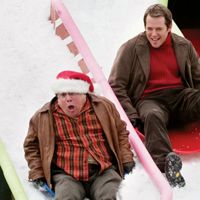 Back in the '80s, Matthew Broderick and Danny DeVito might have played buddy cops in some Lethal Weapon knock-off. Now they're of the age for the generic family comedy. In Deck the Halls, Broderick plays a suburban Christmas junkie whose dominion is threatened by newcomer Buddy Hall (DeVito). The taller actor claims he is not obsessed with the holiday in real life.
"I'm really not," he said. "It was lovely working with Danny, all kidding aside. He's so charming and interesting and hilariously funny, and I found him just easy, easy, easy to work with."
Good to know neither actor is method on a comedy. Broderick enjoyed playing the holiday bumbler. "It was fun. I had a lot of physical stuff, which is really enjoyable for me, and it wasn't like a part I wanted to work too hard on which was nice. You know, it's kind of for children. Well, it's for anybody really, but I don't think you want to overwork it. So it was nice to do a job right, just try to sort of relax and jump in."
The last few years on both stage and screen have found Broderick gravitating more towards comedy. He wouldn't go on record saying it was easier than drama. "Maybe. I don't know whether it's easier exactly. It's something I have a felling, I guess the short answer is yes, it comes easily to me."
Deck the Halls was filmed over the summer in Vancouver, under a dome with fake snow. "It wasn't very Christmasy, but that's the magic thing movies can do, you know. What feels hot and sticky and uncomfortable can look like a little town in Massachusetts. And it's fun to watch how to do it. To see them pump all that snow out and light those houses and build that huge tent that covered two houses so that we could shoot in the daytime. It would have been a month and a half of night, and the months in Vancouver are also very short in the summer, which has to do with the latitude. I'll explain that to you after."
Doing a junket for a Christmas movie demands that actors recite their own holiday memories, but at the end of the day, Broderick was dry. "I've been thinking about that today and I can't really pinpoint one. I have various memories of, you know, snow, a red bike I got that I remember very clearly . I remember a train set. Watching my father set it up the night before and him not knowing that I saw him, so that was like my first major acting role, having to open that the next day and go 'Oh, my god, a train!' It was funny."
Living in New York City means Broderick doesn't have to go too far to decorate. His new traditions are simpler. "We definitely have a tradition of getting together with the whole family, eating enormous amounts of food and we have a tree. We've only lived in our house about four years, so it's all a little bit new, and having a four-year-old, our traditions will be about things that he likes. Have to be really careful, learn from my father's mistake. I'm sure I'll make exactly the mistakes he made. I don't know. Guess I'd better be careful."
We imagine Broderick doesn't ever finish an interview without getting asked about Ferris Beuller, so this would be no exception. "There are definitely new fans for it all the time, as far as I can tell. It's still on TV a lot, and little kids tell me that they love it all the time. When I do plays, after the play, a lot of teenagers now [come up to me]."
At least he's cool about it. Deck the Halls is now playing.
Your Daily Blend of Entertainment News
Thank you for signing up to CinemaBlend. You will receive a verification email shortly.
There was a problem. Please refresh the page and try again.