Interview: Stake Land Writer-Director Jim Mickle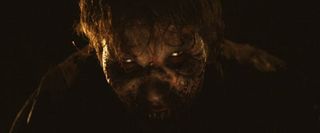 We're over-saturated with vampire movies. Not only is The Twilight Saga dominating the big screen, but there's also the shows True Blood and Vampire Diaries, a remake of the movie Fright Night and so much more. Well, in writer-director Jim Mickle's defense, he started working on his own bloodsucker film, Stake Land, before the craze even began and, as a testament to Mickle's creativity, Stake Land isn't like the competition in the least.
The fanged residents of Stake Land aren't pretty or glittery, rather almost zombielike and damn tough to kill. Since the vampire plague ran rampant through the country, not only must survivors watch out for their turned counterparts, but groups of violent religious fanatics, too. When Martin's (Connor Paolo) parents are killed by vampires, Mister (Nick Damici) takes him under his wing, protecting him, teaching him to fight and forcing him to let go of all emotional baggage. Armed with homemade stakes, the duo treks across the country in search of a supposed safe haven known as New Eden.
Mickle may have received praise for his ultra low budget horror film Mulberry Street in 2006, but that didn't mean the resources would pour in for his follow-up feature. However, Mickle is the kind of filmmaker that keeps good company, so between the writing and acting talents of Damici, the support and hospitality of his parents and the dedication of his high school friends, cast and crew, Mickle had all he needed to make Stake Land a success. Check out everything he had to say about creating his second feature as well as his plan for his third, an adaptation of the book Cold in July, in the video interview below.
Your Daily Blend of Entertainment News
Staff Writer for CinemaBlend.
Your Daily Blend of Entertainment News
Thank you for signing up to CinemaBlend. You will receive a verification email shortly.
There was a problem. Please refresh the page and try again.