Is J.J. Abrams Fighting With Disney About Star Wars: Episode VII's Release Date?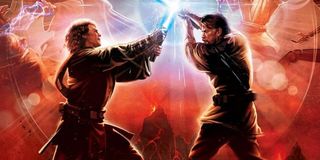 Remember when Star Wars: Episode VII's production schedule was running smoothly, and we started to get those genuinely good feelings that maybe, just maybe this was going to be the movie to turn the brand around? J.J. Abrams and Kathleen Kennedy were adamant about not overusing CGI and actually shooting on location, on 35mm film nonetheless! Abrams appeared in a video with a puppet to show off some of the new creations for the film's menagerie of characters, and he even trolled us about the Millennium Falcon's presence in the movie. But sure enough, Hollywood is teaching us yet again that everything we love must be tested in the fires of conflict. Rumors are now surfacing that the film's release date just might be the cause of a row between the Abrams camp and Disney CEO Robert Iger.
If Latino Review's latest scoop is to be believed, it looks like a debate over the release date to Star Wars: Episode VII has broken out between J.J. Abrams and Kathleen Kennedy, who want to stall for a more traditional May 2016 release date, and Bob Iger, who is dead set on meeting the December 18th, 2015 opening currently in play. As if that wasn't enough of a pain in the asteroid belt, Latino Review has speculated that J.J. Abrams might have lost his spot on the rest of the trilogy due to this argument, as well as his rejection of Michael Ardnt's screenplay work in favor of his own.
Of course, the Latino Review piece is rampant with a whole bunch of other speculation, including a report that says Lucasfilm Publicity officially has stated that Harrison Ford's injury hasn't delayed production on Star Wars: Episode VII at all, and that Rian Johnson's hiring was because of J.J. Abrams' previously mentioned artistic differences with Disney. If I might be allowed a little bit of speculation on my end, I'd say Bob Iger doesn't want to delay Star Wars: Episode VII's release date because his contract with Disney goes until 2016. Depending on the details of the chairman's contract, I wonder if he might not be able to fully reap the benefits of having the film on his resume if he leaves before it's released. The current holiday season release date leaves the movie in a prime tentpole release date that Disney is familiar with, and it keeps Star Wars: Episode VII on Bob Iger's CV.
If Star Wars: Episode VII is going to work, J.J. Abrams, Kathleen Kennedy, and Bob Iger definitely need to be on the same page, and better still I think should go public with some clarifying information regarding the more speculative aspects of production. If they don't speak up soon, the rumors are going to only keep multiplying, which will only make the public more confused as to just how they should feel about the next chapter of the Star Wars saga.
Star Wars: Episode VII is scheduled for December 18, 2015... and Bob Iger prays they don't alter it any further.
Your Daily Blend of Entertainment News
Senior Movies Contributor
CinemaBlend's James Bond (expert). Also versed in Large Scale Aggressors, time travel, and Guillermo del Toro. He fights for The User.