Before J.J. Abrams: Read About The Star Trek Reboot That Almost Was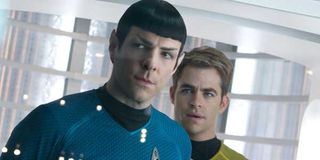 Back in 2009 director J.J. Abrams did his part to change the Star Trek universe forever. With a touch of time travel he rebooted the entire franchise with an alternate timeline, creating new, younger versions of Kirk, Spock and the rest of the Enterprise crew, and reinvigorated a franchise that had spent the previous seven years in limbo trying to figure out a next step. But while Abrams' vision was the one that was ultimately selected to move the sci-fi world forward, it wasn't the only option that was pursued.
Our sci-fi sister site, Giant Freakin Robot, has gotten its hands on a copy of Star Trek: The Beginning, one of the scripts that was in development at Paramount Pictures prior to Abrams' big reboot. As you might imagine the the screenplay is quite different from the direction that the franchise ultimately took, but it's interesting to look at what could have been.
Star Trek: The Beginning would have taken audiences back to an earlier time in the Star Trek universe, namely the year 2159 - placing it somewhere between the events of the television series Enterprise and the original series. The main protagonist of the film would have been Tiberius Chase, a "top-gun starfighter pilot in the United Earth Stellar Navy," who - as you might be able to tell from the first name - is an ancestor of Captain James T. Kirk. He was raised by a family with a xenophobic "Earth first" attitude, which ultimately hurts his status among his UESN brethern, but he doesn't let it stop him from rising in the ranks, even if it means showing disregard for the higher ups.
Like Abrams' film, the script also had crucial parts played by both the Vulcans and the Romulans. The plot of The Beginning is kickstarted when there is a surprise Romulan attack on Earth and it is demanded that all Vulcan citizens give themselves over. This is all part of a campaign on the part of the Romulans to destroy the Vulcan race, deciding "that the galaxy ain't big enough for the both of them." The attacks only escalate as things progress, and the futures of both the human and Vulcan races look dire.
GFR's script review is filled with all kinds of interesting details, from which previously established characters would appear in the film to some particular traits that Kirk would ultimately gain from his ancestor. It's a fascinating read for Star Trek fans and I would recommend checking it out. The question is: would you have preferred to see this version of the Star Trek reboot, or are you glad that Paramount ultimately went with Abrams' vision?
NJ native who calls LA home; lives in a Dreamatorium. A decade-plus CinemaBlend veteran; endlessly enthusiastic about the career he's dreamt of since seventh grade.