J.K. Rowling Offers Clues About American Wizarding School To Be Revealed In Fantastic Beasts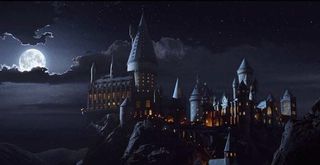 Where do U.S. witches and wizards get their magic training? That information has yet to be disclosed, however, according to what J.K. Rowling recently teased, it sounds like we'll be learning at least a few details about the American wizardry school in the anticipated Fantastic Beasts and Where To Find Them. The author, who wrote the screenplay for the Harry Potter spinoff/prequel film, says that lead character Newt Scamander will meet people who attended a wizarding school (presumably in or near the U.S.), and though she intentionally left out the name, she did confirm that the school is not set in New York.
The exchange began with an inquiry from a fan about the name of the school where U.S. witches and wizards would attend to learn magic, to which another fan responded by referencing the Salem Witches Institute...
The Salem Witches Institute is referenced in Harry Potter and the Goblet of Fire, when Harry spots a banner with that name at a campsite during the Quidditch World Cup. Alas, that's not a school, according to J.K. Rowling. When pressed for details about the U.S. school, Rowling vaguely hinted that the information would be revealed "in due course." And then she offered up a more direct connection between the school and Fantastic Beasts and Where To Find Them.
So Newt Scamander won't actually be visiting the school in Fantastic Beasts and Where To Find Them, but he will be interacting with people who went there. And it's not in New York, which is where the film is confirmed to take place.
While Fantastic Beasts and Where To Find Them will center on U.K. wizard and magizoologist Newt Scamander (confirmed to be played by Eddie Redmayne), it's also been reported that there will be four American lead characters. It's unconfirmed as to whether or not those characters are witches and/or wizards, but if they are, perhaps they're the mentioned people who attended the referenced school.
The fact that the school isn't set in New York isn't surprising, given what we know about Hogwarts. The U.K. school is set in some remote area in Scotland where Muggles aren't likely to happen upon it. Assuming all eleven wizarding schools are built in areas tucked away from the general population, New York City would be about as good a place to put a magic school as London. With Hogwarts' location in mind, we might speculate that an American school of witchcraft and wizardry would be in either a rural or mountainous area somewhere off the beaten path.
Beyond the location, we're still left to wonder what the school is called. When was it founded and by whom? And what kind of building is it? These are all details yet to be revealed, and while this new story isn't set in a school, it's undoubtedly a topic of interest for Harry Potter fans and will hopefully be addressed with at least a few confirmed details about how American witches and wizards get their training.
UPDATE:
Following the above Tweets, Rowling was asked if the origin of the Wizarding school in America has any relevance to American-Indian culture, to which Rowling responded that it does, though the name of the school is "of immigrant origin"...
Beyond that, she won't say which Native American tribes were involved in the founding of the school, as it would give away the location...
J.K. Rowling's Tweets certainly remind us that the author is delving into uncharted territory with this movie, not only in setting Fantastic Beasts in the 1920s, seventy years or so before Harry Potter attended Hogwarts, but also by bringing Newt Scamander across the pond where he's expected to conduct research for the textbook he'll eventually publish. The U.S. setting could offer some great insights into magical history and culture in America.
Fantastic Beasts and Where To Find Them will be directed by David Yates, based off a screenplay written by J.K. Rowling. On a related note, Warner Bros.' Greg Silverman recently told THR that Harry Potter screenwriter Steve Kloves has been around to lend Rowling a hand in the writing process.
Fantastic Beasts and Where To Find Them arrives in theaters November 18, 2016.
Your Daily Blend of Entertainment News
Assistant Managing Editor
Kelly joined CinemaBlend as a freelance TV news writer in 2006 and went on to serve as the site's TV Editor before moving over to other roles on the site. At present, she's an Assistant Managing Editor who spends much of her time brainstorming and editing feature content on the site.