J.D. Salinger Will Be Played By This Great Actor In His Biopic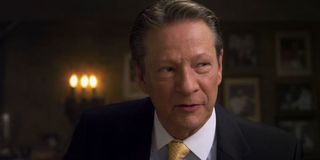 Despite his religious avoidance of fame's glaring spotlight, American author J.D. Salinger has become an icon of literature and a touchpoint of teendom thanks almost entirely to his classic coming-of-age novel Catcher In the Rye. But with Salinger's passing in 2010, it seems it's open season on biopics about the reclusive writer. And one inventive production has just secured Chris Cooper to take on the tricky role.
THR reports out of the American Film Market that Academy Award winner Chris Cooper (Adaptation.) has signed on to star in Coming Through the Rye. The drama will mark the directorial feature debut of Jim Sadwith, who is best-known as a television writer who won an Emmy in 1993 for his biopic Sinatra. (For clarity - it was about Frank Sinatra, not Nancy.)
Rather than a straight forward biography about J.D. Salinger's youth, military career, literary successes and/or personal dramas, Jim Sadwith's take on the author will be a bit more personal. His Coming Through the Rye will be autobiographical as well, being based on his own youthful adventure of trying to track down the mysterious author who meant so much to millions. This means Chris Cooper will co-star with Alex Wolff (A Birder's Guide to Everything) and Stefania Owen (The Carrie Diaries), with the young actor and actress playing two teens on a mission to meet the man behind The Catcher In The Rye.
While Coming Through the Rye's foreign distribution rights are currently up for sale, it's unknown when the project might lens. But announcing its cast--with an Oscar-winner among them--it pulls out ahead of another in the works J.D. Salinger biopic called Salinger's War. Funny enough, this too comes from a filmmaker who made his mark in television.
Last April we told you about Salinger's War, a biopic penned by television actor Danny Strong. (You might remember him as the diminutive Jonathan Levinson on Buffy The Vampire Slayer, Doyle McMaster on Gilmore Girls or Danny Seigel on Mad Men). Based on the biography book JD Salinger: A Life, this biopic script earned a coveted spot on the Black List before Black Label Media agreed to finance it. A more traditional narrative, Salinger's War aims to step audiences through his early struggles as a writer, his creation of Catcher In the Rye's Holden Caufield, and through his traumatizing time in World War II.
But does the world demand two J.D. Salinger biopics? For now, it seems we'll get them. But which of these will be the Infamous (largely ignored) or the Capote (Oscar winner!) remains to be seen. But Coming Through the Rye has a solid leading man to play their Salinger. Now Salinger's War better bring their A-game into securing a star of Chris Cooper's caliber.
Your Daily Blend of Entertainment News
Staff writer at CinemaBlend.