Jack Black Joins Richard Linklater For Fargo-esque Dark Comedy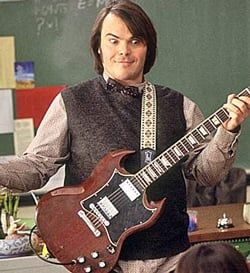 I have a bit of a love hate relationship with Jack Black. He can be a great actor when he wants to presents himself as a human being, but more often than not he is this astoundingly obnoxious caricature of himself who can scarcely be tolerated. We should all hope for the human being version to appear in Richard Linklater's Bernie, the director's self-proclaimed Fargo, in which Black will now play the lead role of Bernhardt Tiede.
Bleeding Cool brings this to us after hearing Linklater talk at a screening of Fast Food Nation last month. He also let slide that Shirley MacLaine would be Black's co-star in a film that he wrote simply based on this rather odd article found over a decade ago in Texas Monthly:
It certainly sounds like the story could bring out an interesting dynamic between Black and MacLaine, and should give Black some room to stretch his acting chops instead of just playing the goofy idiot. Linklater says he is turning the story into a dark comedy of sorts with room for about 50 characters. That might be excessive, but expect there to be some quirk side roles that poke their heads in and out for comic relief.
The director was raised in East Texas so he's looking to make this film as authentic as possible, reaching for non-actors in the community. He says there are many roles for Texans over 40. The film shoots on location this fall.
Your Daily Blend of Entertainment News
Thank you for signing up to CinemaBlend. You will receive a verification email shortly.
There was a problem. Please refresh the page and try again.