Jack Black Is A Son Of A Witch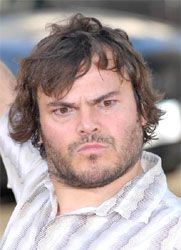 Jack Black has always been a little off. Now we know why – he's a witch. No, not a warlock, a witch – or at least that's the premise of Man-Witch the recently announced project being developed by Black and Old School director Todd Phillips. Black will star and Phillips will direct.
Variety reports the premise of the film: Black will play a schoolteacher who develops extraordinary powers. He discovers he is a witch and is taken in by a coven who encourages him to go to witching school where, since this is about witches, the classmates are all girls. Jack Black – living every man's dream and attending an all-girls' school. Of course, given Black's typical character personality, we can expect him to be zapped into everything from a slimy lizard to a toad in rejection, but this still sounds like loads of fun.
The script is being developed by Jay Reiss. Neither Reiss or his previous script, Lonny the Great (currently in development by Warner Brothers) shows up on IMDb however, so your guess is as good as mine as to how talented he is. I don't think the script is all that important on a project like this, however. Phillips is known for encouraging his actors to ad lib and Black is known for… well, ad libbing. I think we'll see whatever Phillips and Black want us to see, regardless of the script.
Your Daily Blend of Entertainment News