Jake Gyllenhaal's Performance In Southpaw Is Already Getting Oscar Buzz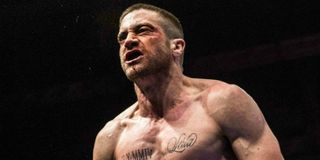 The Oscars may have snubbed Jake Gylenhaal earlier this year for his performance in Nightcrawler -- even though he completely transformed himself physically for the role that was widely praised by critics -- but could this year be his year? The actor beefed up beyond recognition for his boxing movie, Southpaw, and early buzz pegs this human drama as a potential Oscar contender for 2016.
As reported by Variety, Southpaw received an early, private screening during the Cannes Film Festival. Taking place aboard a private yacht, the event was attended by celebrities and models like Michelle Rodriguez, Antonio Banderas, Mary J. Blige, Charli XCX, Adrien Brody, Dita Von Teese and Adriana Lima. The film was selected for Cannes, but since Gyllenhaal was a member of the jury, it couldn't play in competition.
That said, The Weinstein Company, director Antoine Fuqua (Training Day) and Cannes delegate Thierry Fremaux all believe this to be Gyllenhaal's best performance to date, according to the trades. Harvey Weinstein even promised earlier last week during a sneak peek presentation of the film that the actor would surely get nominated for an Oscar come awards season. "We'll get revenge," he said, referring to the actor's Best Actor snub for Nightcrawler, which was released by Open Road. To be fair, Weinstein does this often. But in this instance, buzz on both Gyllenhaal and Southpaw suggest that they each deliver the goods.
Southpaw features Jake Gyllenhaal as Billy "The Great" Hope, the reigning Light Heavyweight Boxing Champion of the World. He's on top of the world, career-wise and family-wise, until an unfortunate incident causes the death of his wife (played by Rachel McAdams). Consumed by grief and reckless behavior, he temporarily loses custody of his child. Now he must return to the ring to win back his honor and his remaining family. Watch the trailer below.
Academy voters constantly recognize actors who undergo dramatic and shocking transformations for their roles. (See Matthew McConaughey, Sean Penn, Daniel Day-Lewis, Philip Seymour Hoffman and Eddie Redmayne, for recent examples.) Gyllenhaal, while losing an incredible amount of weight for Nightcrawler, gained it all back and then some for Southpaw. The actor gained 15 lbs. of pure muscle, training at Floyd Mayweather's gym and with real fighters. "Jake is going to change how people see him," Fuqua told Deadline.
Everything we've seen so far of Southpaw points to an Oscar nomination, but we still have a lot of other films to see this year that are vying for Oscar attention. While Gyllenhaal's film hits theaters this July 24, some of the others earning early buzz for Best Actor are The Danish Girl (for Eddie Redmayne), The Revenant (for Leonardo DiCaprio), and The End of the Tour (for Jason Segel).
Your Daily Blend of Entertainment News