Jake Gyllenhaal Really Wants You To See That Movie You Skipped Earlier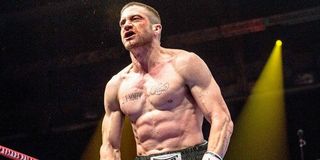 Southpaw wasn't the overwhelming critical and financial success that The Weinstein Company hoped for. Sure, Jake Gyllenhaal's performance was met with plenty of superlatives, but the accompanying script, direction, and endless clichés meant that the film was a bit of a damp squib. But, that's not going to stop Southpaw from getting an awards season push, and to do that it's being re-released.
Entertainment Weekly confirmed that, starting today, Southpaw is going back into cinemas across America on over 300 screens. By doing this, Southpaw hopes to add more money to its domestic gross of $52.1 million, which is all it amassed since opening back in July. But, more importantly for Jake Gyllenhaal, it will also remind people how good the actor's performance was just in time for awards season.
Erik Lomas, the President Of Theatrical Distribution & Home Entertainment over at The Weinstein Company, admitted that the plan behind putting Southpaw back in cinemas is to give "more serious-minded audiences who may have missed it the first time around a chance to see a film that we feel is a very serious contender."
But what are the chances that Jake Gyllenhaal will actually receive the Best Actor nomination that he craves so badly? Well, first of all, he's going to have some firm competition. Michael Fassbender in Steve Jobs, Eddie Redmayne in The Danish Girl, Matt Damon in The Martian, Michael Keaton in Spotlight, Johnny Depp in Black Mass, Tom Hanks in Bridge Of Spies, and Leonardo DiCaprio in The Revenant, are each destined to be in the mix, too.
Also, sure his turn as Billy "The Great" Hope, the championship boxer who goes through so many traumas throughout his career as he looks to become a champion again after suffering a tragic loss, was sublime, but the film of Southpaw was just so mediocre that it didn't have that lasting an impact.
But, Harvey Weinstein is hell-bent on getting that Oscar nomination for Jake Gyllenhaal. Why is Weinstein so intent? Well, he still feels that the actor deserved one last year for his performance in Nightcrawler. And it's hard to argue with that, as Gyllenhaal was truly and utterly beguiling as the crazed go-getter Lou Bloom in Dan Gilroy's noir crime drama.
And this oversight could help Gyllenhall in his quest, as the Oscars have been known to try and right their wrongs by rewarding individuals for work that wasn't quite as good as their best. Just look at Martin Scorcese, who finally won an Oscar for The Departed when he should have done so for Raging Bull or Goodfellas. We'll find out if the Academy feel the same way about Gyllenhaal when the nominations are announced in early 2016.
Your Daily Blend of Entertainment News