Jake Gyllenhaal Wants Lance Armstrong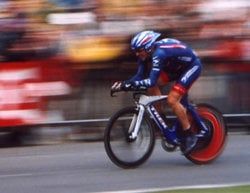 What's Jake Gyllenhaal doing hanging out with Lance Armstrong? Now that Lance is done with cycling and saggy Sheryl Crowe is he exploring other options? Or is Jake training for a new career in competitive tricycling? Neither. According to Deadline Hollywood the Brokeback cowboy wants to play America's greatest athlete in a new movie.
The movie is being developed under wraps over at Sony, and Jake and Lance have been spending this year's Tour de France hanging out together. Gyllenhall and Armstrong have reportedly become friends, which probably means the actor will get an endorsement for the part. That doesn't mean he has it yet though. The movie's still in early developmental stages. Jake may want to play him, he's even ramping up his cycling, but we'll see which direction Sony goes.
As an athlete, Lance Armstrong's story is one of the most compelling in sports. As a movie, watching a guy peddle up a mountain just isn't that exciting on screen. Americans hate cycling, and jealous Euro's hate Lance Armstrong. Where's the market for a Lance Armstrong movie?
Your Daily Blend of Entertainment News
Your Daily Blend of Entertainment News
Thank you for signing up to CinemaBlend. You will receive a verification email shortly.
There was a problem. Please refresh the page and try again.