James Franco And Cate Blanchett Both Out Of Noah Baumbach's While We're Young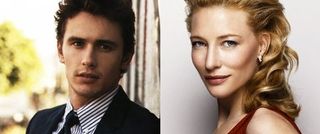 Amid all the crazy things that clutter his schedule, there seemed to be one certain next project for James Franco, the new Noah Baumbach movie While We're Young. He was set to star opposite Cate Blanchett and Ben Stiller, with the two of them playing an older couple who befriend a free-spirited younger pair, to be played by Franco and another actress next to be cast. Now all of that is out the window: Just Jared is reporting that both Franco and Blanchett have dropped out of the project, leaving Stiller and Baumbach all by their lonesome.
The reasons for their departures don't seem to be slights against Baumbach, but just the harsh realities of big-budget studio filmmaking vs. indies. Both Franco and Blanchett had to bail because of scheduling conflicts on larger projects-- Franco will be busy starring in Oz: Great and Powerful for Sam Raimi and Disney, while Blanchett will be reprising her role as Galadriel for Peter Jackson in The Hobbit movies. Both projects seem pretty interesting as far as studio-funded blockbuster goes, so it's not exactly like Franco and Blanchett have traded working with an interesting director for standing, bored, in front of a green screen. But it is kind of a shame to see them both walk away from Baumbach, who recently got career-best work out of Stiller in Greenberg and could be looking to add on that. Hopefully there's no lack of other talented actors dying to work with Baumbach and take their places.
Your Daily Blend of Entertainment News
Staff Writer at CinemaBlend