If James Gunn Could Direct 1 Other Superhero Movie, It Would Be This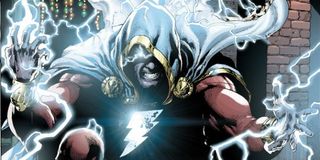 The more that James Gunn, director of Guardians of the Galaxy shares on his social media outlets, the more his fans learn that he really is a comic book fan, far beyond just the Marvel Cinematic Universe. So when he recently wrote a note on Facebook apologizing for any misinterpretations fans strew from his interviews, his fans took the opportunity to ask him more personal questions. One went so far as to ask which DC film James Gunn would want to work on if given the opportunity, to which Gunn responded Shazam.
The fan admits that he is a Superman fan, and has always wondered what film in the DC franchise Gunn would like to work on, if he was not precluded. Gunn responded to the fan stating:
We can't be sure what exactly what that preclusion means. It could be that Gunn is contractually obligated to Marvel which prevents him from ever signing on with a DC entity. Or it could also be that because of Gunn's extensive work with Guardians of the Galaxy 2 it will take too much of his time for the next couple years, preventing him from working on other projects. But, his admittal of which DC character he would like to bring to the big screen is a very fitting to his interests.
Shazam has a great story. As a child, Billy Batson met an ancient wizard known as Shazam. The wizard bestowed powers on Billy Batson and whenever Billy spoke the wizard's name he would transform into the adult Captain Marvel. Because of the connection to Marvel, there had been many legal issues between the two companies, and Billy Batson later went on to use the name Shazam as his alias (so DC could drop the name Captain Marvel). The powers granted to Billy turn him into a heroic persona with powers of the gods including Solomon, Hercules, Atlas, Zeus, Achilles, and Mercury (SHAZAM). He has been a member of the Justice League and Justice Society of America. And has been confirmed to appear in Zack Snyder's Justice League scheduled for release November 17, 2017.
Though Guardians of the Galaxy is more based in a science-fiction genre, the style in which Gunn brings his characters to life is very imaginative. It resembles a fantasy genre, and taking on an ancient wizard, and powers of the gods would be a fun project for him with his style of directing. Though Gunn's note on Facebook claims that he cannot comment on Guardians of the Galaxy's connection with any other Marvel Cinematic characters (including The Avengers) he also did not dismiss the idea. So while we may not be able to see his take on Shazam or any other DCCU film, we can have hope that he will be given the opportunity to explore other characters in the MCU.
For now though, we can't complain, Gunn has done an incredible job bringing Guardians to life, and seeing where he takes them in their current, and ever expansive universe is quite the ride. Guardians of the Galaxy 2 is scheduled to hit theaters July 28, 2017, and Gunn has big plans for the motley crew.