James McAvoy And Michael Fassbender: Catch Up On The Work Of The X-Men: First Class MVPs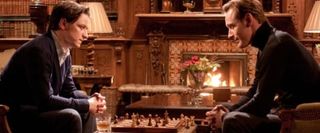 At some point in the development of X-Men: First Class, a Fox executive surely argued that they could make it on the cheap because it didn't feature any stars. On paper that might be true-- there's not a single person in that lineup of mutants who drew a salary the size of Johnny Depp's for Pirates of the Caribbean: On Stranger Tides, or even the returning cast for The Hangover Part II. But taking over two iconic lead roles once played by Patrick Stewart and Ian McKellen, James McAvoy and Michael Fassbender had no choice but to act like stars anyway, and each of them turns in a performance so charismatic and attention-grabbing that they completely carry a film that might have fallen apart without them.
For a lot of us, this didn't come as a surprise-- both McAvoy and Fassbender have been turning in fierce, hugely varied performances in smaller movies for several years now, the kind that gets critics murmuring amongst themselves "Who is this guy?" Fassbender broke out among festival audiences in 2008 with Steve McQueen's Hunger, starving himself and baring all both emotionally and physically to play Irish hunger striker Bobby Sands, and then really got attention as the debonair Archie Hicox in Inglourious Basterds. McAvoy cut his teeth in British television and indies before providing ballast for Forest Whitaker's Oscar-winning performance in Last King of Scotland, and has actually been an action star in his own right since 2008's Wanted. But even in the context of a scattered, notoriously rushed production like X-Men: First Class, Fassbender and McAvoy come together in the center of the film and bring out performances in each other that feel genuinely new. Fassbender has mastered intensity and rage before, but never with the kind of raw vulnerability we see in Erik Lensherr; and while McAvoy is a natural at playing the confident young egghead Charles Xavier, the depth of his affection for his new friend Erik lends the character a deep sadness as Erik morphs slowly into the vicious Magneto.
As good as the rest of the X-Men: First Class cast is, it's impossible to imagine the movie succeeding without Fassbender and McAvoy, turning clunky dialogue scenes into graceful mental tugs-of-war, and making a third-act finale that's an alternate history version of the Cuban Missile Crisis actually all about two friends who realize they can't stay together. Sure, that sounds a lot more emo than your average summer blockbuster, but so were Spider-Man and The Dark Knight-- you may remember that's what made those movies great.
I imagine a lot of people will walk into X-Men: First Class with only a vague idea of who the guys are playing Magneto and Professor X, and walk out dying to know more. If you're one of those people, below are some Fassbender and McAvoy roles well worth catching up on to learn more about these guys. I'm not including the big ones, like Fassbender in Inglourious Basterds or McAvoy in Atonement, since odds are you've seen those; these are smaller roles that you might not have cared about before they wowed you in X-Men. They haven't had mutant powers in their previous films, true, but I promise they've been just as talented and charismatic.
Hunger. I had no idea who Fassbender was when I walked into Hunger-- pretty much nobody did at the time-- but his performance is the linchpin of a film that's just as fierce and self-assured as he is. The trailer let's you know what a hard watch this is, but to understand how much Fassbender is capable of you pretty much have to see it. It's available to watch now on Netflix Instant (opens in new tab).
Fish Tank. The scene above is pretty light-hearted, and shows off once again Fassbender's undeniable charisma and attractiveness, but the key to both Fish Tank and his performance is the way he tiptoes around that line of being friendly to the teenage daughter of his new girlfriend and taking advantage of a young girl obviously smitten by him. It's a tough watch-- not as tough as Hunger, don't worry--but another small British indie that rewards your patience and willingness to venture some places in the human mind that might even shock Charles Xavier. It's on Netflix Instant (opens in new tab) as well.
Centurion. It's funny to think of this movie coming out in early 2010, when Fassbender had just grabbed some attention in Inglourious Basterds but was still un-famous enough to be ignored in the marketing for that summer's Jonah Hex. Centurion isn't a great movie-- it's a weird, scattered and sometimes goofy one-- but it's Fassbender in action hero mode, a lot less conflicted than Magneto but also more naked. It's tradeoff you probably ought to witness for yourself. And lucky Fassbender fan that you are, it too is on Netflix Instant (opens in new tab).
Starter for 10. This tiny British rom-com came out in the U.S. a few months after Last King of Scotland, and yet nobody managed to see it. It's a light and charming little romance inspired by the usual litany of 80s teen movies, and it's only gotten more entertaining in the years since, as McAvoy and his co-stars Rebecca Hall (Vicky Cristina Barcelona, Please Give), Benedict Cumberbatch (Atonement, TV's Sherlock) and Alice Eve (She's Out Of My League, Sex and the City 2) have all gone on to bigger careers. The movie is also the first evidence of the randy, slightly sleazy Charles Xavier performance McAvoy would bring us a few years down the line. It's not on Instant Watch, but you can get it from Netflix (opens in new tab) the old-fashioned way.
Shameless. McAvoy starred opposite his real-life wife Anne-Marie Duff in the original British version of the series that's now been adapted to Showtime; in a show about scoundrels and thieves he was one of the good-hearted ones, a car thief starting up a romance with Duff's character Fiona. If you like your McAvoy romantic a la Atonement but a little more rough and tumble, Shameless is probably worth a watch.
The Last Station. Unfairly perceived as blatant Oscar bait, I think, when it came out in early 2010, The Last Station isn't the greatest movie, but features McAvoy, Helen Mirren, Christopher Plummer and again McAvoy's wife Duff cavorting around the countryside, playing Russian intellectuals all trying to live like their idol Tolstoy. If nothing else McAvoy kills it in a scene in which his character, previously committed to the celibate life of the mind, finally loses his virginity to a persistent redheaded comrade on the farm. You can see him confessing his love for the very same girl in the clip above. The entire movie is available on Netflix Instant (opens in new tab).
Staff Writer at CinemaBlend
Your Daily Blend of Entertainment News
Thank you for signing up to CinemaBlend. You will receive a verification email shortly.
There was a problem. Please refresh the page and try again.