January Jones Acknowledges The X-Men: First Class Production Is Rushed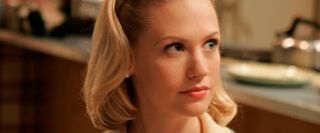 X-Men: First Class stars James McAvoy, Michael Fassbender and January Jones are all out doing press right now for other projects, which means that once they've finished talking about Gnomeo & Juliet, Jane Eyre and Unknown, respectively, they're hit with at least one or two questions about the latest mutant film, which we all got our first look at with the trailer that hit last week. McAvoy told Eric about the reshoots the cast has been doing, and now Jones is addressing the issue as well in an interview with Jam! Showbiz, in which she calls the film's quick shooting schedule "unreasonable."
There have been a lot of headlines around the web taking Jones's "unreasonable" comment as criticism about the entire production, but if you read the full quote in context, it's really pretty innocuous. Here's everything she had to say about the shooting schedule and the reshoots:
So basically what you have here is an actress saying "yes it's rushed, but everyone working on this movie is a genius, so it'll be great!" Very much by the book. There are probably some PR people panicking this morning all the same, but when it comes down to it, January Jones is still being a team player. Rushed or not, X-Men: First Class is still hitting theaters on June 3.
Staff Writer at CinemaBlend
Your Daily Blend of Entertainment News
Thank you for signing up to CinemaBlend. You will receive a verification email shortly.
There was a problem. Please refresh the page and try again.