January Movie Preview: Jack Ryan, Hercules And Frankenstein Come Out To Play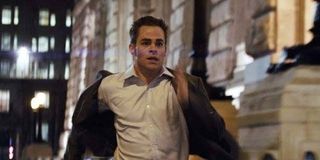 It is a new year in cinema, at least for everyone who isn't still coked up from Martin Scorsese's Wolf of Wall Street. Unfortunately, January tends to be a dumping ground where studios release all of the films that weren't good enough to push for Oscar consideration or big enough to release during the summer tentpole season. I guess they figure everyone celebrated enough during the holidays and no one needs to get excited for cinema so early in the year.
There are some exceptions to the rule here, as Hercules, Frankenstein and Jack Ryan are characters that seem better suited for warm weather releases. Will they be the first blockbusters or 2014, or merely the first batch of disappointments? Take down the Christmas tree and hang those lights on our January preview, which starts off with a bang, or at least a bump in the night.
Paranormal Activity: The Marked Ones
Paranormal Activity: The Marked Ones, the first follow-up to the utterly terrible Paranormal Activity 4, is something of a departure for the cheapo horror series, as it's a Latino spinoff that takes the action out into the world, rather than just sticking it all inside a house with lots of cabinets for ghosts to open. (That'll happen with Paranormal Activity 5, which comes out later this year.) The trailers make it seem like a step in a refreshing direction, but it still adheres to the found footage sub-genre so we won't be expecting anything too markedly different. Expect this one to scare up a ton of money on a weekend with absolutely nothing else going for it.
Director: Christopher Landon
Stars: Andrew Jacobs, Molly Ephram, Richard Cabral
Release Date: January 3
The Legend of Hercules
As the first of two films involving the mythical hero Hercules, this is the one that looks like Zack Snyder's 300 and doesn't star Dwayne Johnson. The Legend of Hercules is something of an origin story and will follow our musclebound lead as he is sold into slavery by his evil stepfather, the King, as a punishment for falling in love with someone he shouldn't have. And as you can imagine, he will have to kick a lot of ass in slow motion in order to save himself. One really doesn't need to say anything more than "It's a Renny Harlin movie," to tell audiences exactly what to expect from this one.
Director: Renny Harlin
Stars: Kellan Lutz, Gaia Weiss, Scott Adkins
Release Date: January 10
Lone Survivor
Based on the 2007 military memoir by Marcus Luttrell, Lone Survivor is the true story of four Navy SEALs ambushed by al-Qaeda forces while on a covert mission to take out a high ranking enemy leader. A story that stresses both the mental and physical strengths of humans in danger, this will undoubtedly be the movie that veterans and on-duty military men will be quoting for the next 12 months. It seems like every year needs a movie where a bloody-faced Mark Wahlberg kicks some ass, right? And having the talented (if sometimes bombastic) Peter Berg behind the camera doesn't hurt either.
Director: Peter Berg
Stars: Mark Wahlberg, Ben Foster, Taylor Kitsch, Eric Bana
Release Date: January 10 (nationwide)
Jack Ryan: Shadow Recruit
It's been 12 years since we've seen Tom Clancy's celebrated character Jack Ryan on the big screen, as Ben Affleck essentially killed it with his performance in 2002's The Sum of All Fears. (Sorry, Ben.) Chris Pine is the latest to take the role in Jack Ryan: Shadow Recruit, which drops the brainy CIA analyst right in the middle of a Russian terrorist plot to destroy the U.S. economy. With a great director in Kenneth Branagh and a pretty stellar cast, this could be the first great action movie of 2014. But it'll have to convince all of the Clancy fans that it's worth their time, as this is the first Ryan story that isn't directly adapted from one of the novels, and looks like it's turning the character into an action hero, rather than a guy who uses his smarts more than his muscles.
Director: Kenneth Branagh
Stars: Chris Pine, Kenneth Branagh, Kevin Costner, Keira Knightley
Release Date: January 17
Devil's Due
If you've ever drawn a pentagram on the ground and performed a Satanic ritual in an effort to bring into existence a found footage horror movie that looks like somebody took Rosemary's Baby and stripped it off all subtlety, Devil's Due is the fruit of your labor. The film follows a newlywed couple that experiences a strange event on their honeymoon that leaves the wife pregnant and increasingly hostile. There's no question that it's the thing growing inside her that altered her behavior, but what is it and how do they stop it? I'm guessing this entire movie was crafted based solely on the shot in the trailer of the hand pushing out through the wife's pregnant stomach. It's a striking image, and is hopefully surrounded by a more interesting story than what the average found footage movie tends to deliver. Get it? Deliver?
Director: Matt Bettinelli-Olpin and Tyler Gillett
Stars: Zach Gilford, Allison Miller, Steffie Grote
Release Date: January 17
The Nut Job
At first glance, this might look like just some knockoff children's movie that will be forgotten by Valentine's Day. But The Nut Job actually looks like the funniest animation outside of Disney and Pixar (and The Lego Movie.) Will Arnett voices a crafty squirrel named Surly that aims to be the Danny Ocean of salty snack heists as he plans a robbery of a nut store with his rat friend Buddy and a squad of other goofy animal characters. The crisp animation might make the 3D viewing exciting, but we're just hoping the story is worth of the Ocean's Eleven comparison. Everybody's life needs a few funny rodents in it, right?
Director: Peter Lepeniotis
Stars: Will Arnett, Katherine Heigl, Brendan Fraser, Liam Neeson
Release Date: January 17
Ride Along
Capitalizing on the explosive success of manic comedian Kevin Hart, the comedy Ride Along will almost certainly go for loud and easy laughs rather than anything particularly witty, but we'd expect nothing less from a buddy cop movie starring Ice Cube. Hart plays a high school security guard trying to become a real cop, and is planning on proposing to his longtime girlfriend, whose brother (Cube) is a hardcore detective that deals out intimidation along with justice. The two men go on the titular ride along as a bonding experience and find themselves caught up in a plot involving one of the most dangerous criminals in the city. Take a drink every time Ice Cube doesn't say he's getting to old for this shit, as that should help during the hammier portions of the story. Expect audiences of all kinds to hop in the backseat of this one regardless of where it takes them.
Director: Tim Story
Stars: Ice Cube, Kevin Hart, Tika Sumpter
Release Date: January 17
I, Frankenstein
One of a handful of Frankenstein-centered films coming out in the next year, I, Frankenstein by default will be the biggest and most ostentatious of the bunch, as it includes flying demons, vengeful gargoyles and fireballs a plenty. Aaron Eckhart stars as the titular monster, who has lived with his scars for over 200 years, and finds himself in the middle of an ancient war between the gargoyle and their demon arch enemies. Based on Kevin Grevioux's graphic novel of the same name, it takes all of three seconds of footage to make one think of the similar universe of Underworld, so it's no surprise that it comes from the same producers. Regardless of which of these monster clans ends up taking over the world, Mary Shelley will still be spinning in her grave just the same.
Director: Stuart Beattle
Stars: Aaron Eckhart, Bill Nighy, Yvonne Strahovski
Release Date: January 24
Knights of Badassdom
Joe Lynch's comedy/horror Knights of Badassdom follows a group of dedicated LARPers (Live action role-players) as they plan on battling a rival group to the fictitious death. Throw in some drugs and an assumedly fake ancient ritual and the teams soon have to band together to battle an evil succubus that has traveled from the underworld in order to take over the world. Filmed back in 2010, the film has had about as hard a road to release as anything before it, but has it has amassed a huge cult following along the way. The problems don't end with the release, however, as this will be a studio cut and not the one that Lynch intended to release, so it remains to be seen just how well this film is going to do. We've been anticipating it for ages, so it's no big feat to wait a few more months to possibly get the original cut on Blu-ray or DVD. But just in case that never happens, we'll be hitting the theaters with our chainmail donned.
Director: Joe Lynch
Stars: Peter Dinklage, Ryan Kwanten, Steve Zahn, Summer Glau
Release Date: January 24
Labor Day
What's this? A potentially awards-worthy movie from an acclaimed and Oscar-nominated director? Jason Reitman's Labor Day follows Kate Winslet's Adele, a mother who finds Josh Brolin's fugitive Frank Chambers bleeding on the side of the road and takes him in to nurse him back to health. The two fall in love, despite Frank's troubled past, at the same time Adele's son Henry begins his own relationship with a manipulative young girl. This is one of those films that critics and moviegoers alike have been anticipating, though a less-than-amazing Telluride Festival debut left some cold. It did earn Winslet a Golden Globe nomination for Best Actress in a Drama, so there are obviously merits to be found.
Director: Jason Reitman
Stars: Kate Winslet, Josh Brolin, Tobey Maguire
Release Date: January 31
That Awkward Moment
In what looks like "the relationship comedy for young people who don't understand how relationships work" movie of 2014, That Awkward Moment will heretofore be known as the movie in which Zac Efron learns how to urinate with a boner. The slight story for this R-rated comedy involves three besties that have never been involved in an extended romance, and how they react once each of them finds a woman that could change all that. While this is the kind of film that seems beneath the talented Michael B. Jordan, it's right up the alleys of Zac Effron and Miles Teller. At best, it'll be worth a few cheap laughs involving someone's penis; at worst, it will be popular enough to inspire a sequel. But did we mention that Efron has a boner in it?
Director: Tony Gormican
Stars: Zac Efron, Miles Teller, Michael B. Jordan
Release Date: January 31
Nick is a Cajun Country native, and is often asked why he doesn't sound like that's the case. His love for his wife and daughters is almost equaled by his love of gasp-for-breath laughter and gasp-for-breath horror. A lifetime spent in the vicinity of a television screen led to his current dream job, as well as his knowledge of too many TV themes and ad jingles.
Your Daily Blend of Entertainment News
Thank you for signing up to CinemaBlend. You will receive a verification email shortly.
There was a problem. Please refresh the page and try again.