Jason Biggs, Eugene Levy And Seann William Scott Confirmed For New American Pie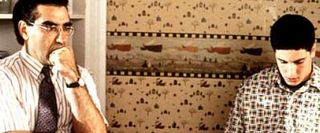 If you've finally gotten over the fact the Universal Pictures turned one legitimately funny comedy, Meet the Parents, into a bloated and awful franchise, well, brace yourself for it to happen again. According to THR the studio is planning a fourth American Pie film, and that Eugene Levy, Jason Biggs and Seann William Scott have all sacrificed their dignity to be part of it.
Those three are the only original stars to close their deals, but the studio is still after Thomas Ian Nicholas, Tara Reid, Chris Klein, Mena Suvari and Jennifer Coolidge to come back too. Given that none of them, save maybe Coolidge, have had roles in the last decade to eclipse their work in American Pie it wouldn't surprise me if they all came back too; notably missing from this wishlist is Alyson Hannigan, who is doing just fine for herself on How I Met Your Mother and probably doesn't need the cash.
Last we heard about the plans for this sequel was about a year ago, when Harold and Kumar writers Jon Hurwitz and Hayden Schlossberg had signed on to write a new script. There's no mention of them in today's THR piece, though that doesn't necessarily mean the studio has scrapped their script. Honestly, I don't care if they've actually got a great script going into this-- there's something fundamentally depressing about another American Pie film now, and all those actors trying to recapture the raunchy teen energy of the first movie. Having been a teenager when the first movie came out in 1999, I now just feel unspeakably, terribly old.
Staff Writer at CinemaBlend
Your Daily Blend of Entertainment News
Thank you for signing up to CinemaBlend. You will receive a verification email shortly.
There was a problem. Please refresh the page and try again.