Jason Momoa Reveals Why He Turned Down Guardians Of The Galaxy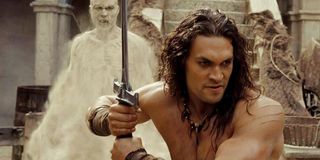 Success in Hollywood is hard. Success in avoiding typecasting is even harder. If you aren't the default tall, dark and handsome male, you get cast as whatever your body type may be: all it takes is one time playing "the fat guy" or "the squirmy thin nerd" and you are that person for the entirety of your career. And if you've got muscles to the sky, well, we're got news for you: the age of Schwarzenegger is over, and you're stuck playing "the muscle."
There's one guy who isn't gonna play that game, though, and it's Jason Momoa. The Game Of Thrones actor has a brutish physicality that somehow blinds people to his other talents and smarts. And he's fed up with that, enough to have turned down the part of Drax in Guardians Of The Galaxy. Speaking to Zap2It, Momoa elaborated on why he rejected that role. Essentially, it's just another muscle part for a guy who believes he's a little more than that.
Momoa towers over his co-stars, not just physically but otherwise: he was a standout on the decorated cast of Game Of Thrones and absolutely out-charisma'd Sylvester Stallone in Bullet To The Head. He's impossibly handsome and has strong, captivating features: you can see how putting a shirt on him and placing him in a mundane environment, like the Sundance Channel's Red Road apparently does, would make him a compelling screen presence even when he's not being physical. No offense to Mr. Bautista, who himself is an amusing screen presence, but Drax probably isn't a character with a whole lot of meat on the bones as far as an ensemble film, particularly considering his single-minded quest for revenge. Though, if Momoa actually takes a bruiser role in that Batman/Superman film, chances are somebody just pays better than somebody else, though this interview likely suggests he has already turned that offer down as well, if it was ever real in the first place.
As for Road To Paloma, that low budget project is described as a road-revenge story, where Momoa wrote, directed and starred alongside Wes Studi and Bullet To The Head co-star Sarah Shahi. The trailer's below, and it certainly seems polished for a 34 year old first-timer only known by simpleminded executives for his muscles. Look for that one in mid-2015.
Your Daily Blend of Entertainment News
Thank you for signing up to CinemaBlend. You will receive a verification email shortly.
There was a problem. Please refresh the page and try again.