Jason Momoa Says Attachment To Man Of Steel Sequel Is Purely Rumor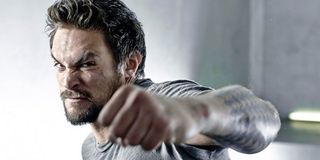 None of us are Jason Momoa, but wouldn't it be great if we were? The sexy, gigantic beefcake owned pretty much all of his scenes on Game Of Thrones, and now that the man formerly known as Khal Drogo is headed to Hollywood, it's only a matter of time until he dominates the marketplace. And in modern Hollywood, that requires less actual acting and starring in movies than it does denying roles in blockbuster films, usually where you play superheroes. So for being linked to the Man Of Steel Sequel, Momoa has certainly made it in this industry.
Unfortunately for this nation of Momoa-heads (this guy's fans need a nickname, stat), he's not currently involved with that film. Speaking to IGN, Momoa lets down Momoans (nailed it) by revealing his attachment to the film is "just rumors. I want to say something amazing, but I can't comment on rumors." He coyly adds, "It's flattering. [But] I'm not involved in it."
Momoa auditioned for another superhero role, that of Drax the Destroyer in Guardians Of The Galaxy, but the part went to Dave Bautista. Later in the interview, Momoa comments about how Guardians is likely what linked him to DC's superpowered 2015 release. In this business, if you're attached to one superhero movie, you're attached to all of them.
Which isn't to say he won't be involved in the film in the future. These casting rumors sometimes come from the desks of producers and executives, way before anyone has actually spoken to the actor in question, and they are forced to address assertions that, yes, someone wants them in their movie. To that end, Momoa was absolutely magnetic in Bullet To The Head as a towering supervillain who absolutely dwarfed co-star Sylvester Stallone in height, musculature and even charisma. You spend the entire movie thinking, why aren't we watching HIM? He'd be a perfect fit in the DC onscreen universe, particularly in a Zack Snyder film, since the greatest requirement in a Snyder picture is for an actor to learn how to pose, strut and flex.
Momoa's on the promotional trail for The Red Road, the latest in a promising slate of Sundance Channel shows that includes last year's Rectify and Top Of The Lake. Hopefully this puts him on the path to the A-List, where he can confirm, and not deny, rumors like this. Then again, maybe he's simply refusing to comment that he's attached not to the Man of Steel Sequel but instead to the rumored Justice League film that would follow. We're onto you, Jason.
Your Daily Blend of Entertainment News
Thank you for signing up to CinemaBlend. You will receive a verification email shortly.
There was a problem. Please refresh the page and try again.