Jason Statham Vs Jet Li Vs Luis Guzman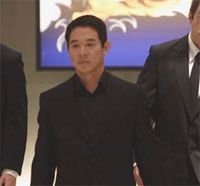 Fearless may be billing itself as Jet Li's last martial arts movie, but before he really calls it quits Jet is making a few pit stops to face off against his competition. Rumors have already been swirling that he'll fight Jackie Chan in an upcoming movie, and he's already in production on a film that pits him against Jason Statham.
The movie's called Rogue, and the rest of the cast outside those two leads is pretty good too. Devon Aoki is in it, whom you might remember as deadly little Miho in Sin City. Luis Guzman is a player as well, though what he's doing in a karate movie is anyone's guess.
We've scored the first set of pics from the film courtesy of Lionsgate. Check out all Rogue has to offer by visiting our photo gallery here.