Jason Sudeikis Leers At Applebees Women With Owen Wilson In Hall Pass Clips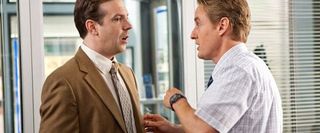 Here's another story in which men are made out to be horndog retards; and women are portrayed as frigid, conniving harpies. I'm not saying it isn't true, but with most of the sitcoms on television devoted to these ideals, how often do we really need to see it in a movie? I'd say at least one more time, for Hall Pass.
Hall Pass is a movie about idiot men who receive permission from their manipulative wives to sleep with other women. They're so stupid they go to an Applebees to pick up models with their buddies. Whether or not this sounds entertaining is immaterial, the thing is Hall Pass has a cast that's worth your time. I'm not just talking about the leads, Jason Sudeikis and Owen Wilson are fine, but the supporting cast is pretty great too. In particular take note of JB Smoove who, as it happens, appeared on a television show which already covered this exact premise. Also keep an eye out for Stephen Merchant, whose last noteworthy movie role was in The Tooth Fairy, but is probably best known as Ricky Gervais's writing partner and co-producer on such hilarious programs as An Idiot Abroad. This is sure to be better than The Tooth Fairy.
Here's four clips from Hall Pass:
Your Daily Blend of Entertainment News
Thank you for signing up to CinemaBlend. You will receive a verification email shortly.
There was a problem. Please refresh the page and try again.