Jay Baruchel Practically Admits He's In JLA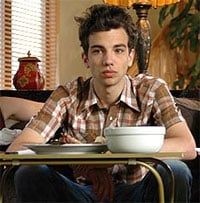 It's been at least a week since we've done a vague Justice League of America casting story full of rumors and half-truths, so now is the time. Jay Baruchel, that stonerish nerd from Knocked Up and the short lived TV show, Undeclared, has almost admitted that he's going to be in JLA. A rumor that he was going to be a villain in the movie was flying around the net in mid-December and we dutifully passed it on.
Baruchel himself was talking to Canada.com and he (or at least the article's author) broadly hints that he's down in Australia to get ready for the JLA shoot. The article states that Baruchel is in rehearsals "for what is rumoured to be the most expensive Warner Bros. movie in history. Set for release in 2010, the project is shrouded in secrecy…" Baruchel himself only says, "The (film) I'm doing now will be a real cracker, it will be insane." The actual shoot Baruchel is prepping for will begin in February.
So, we have an insane cracker of a movie shooting in Australia in February that will be the most expensive in Warner Brothers' history. I think we all know it's not Evan Almighty 2, so it can only be our favorite DC comics band of merry pranksters. Baruchel's role is still unknown, but some are saying he will play Max Lord. That is not the name of some second tier porn star, but a cyborg who helped form the Justice League International and then became a bad guy, or something. In any event, like most other names mentioned as casting choices in this movie, he's not the first guy you'd think of when you hear a new superhero movie is being made.
Your Daily Blend of Entertainment News
Thank you for signing up to CinemaBlend. You will receive a verification email shortly.
There was a problem. Please refresh the page and try again.