Jean Dujardin Heist Flick Getting American Remake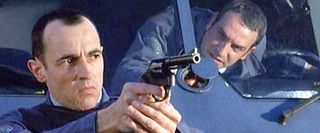 Long before French star Jean Dujardin two-stepped into our hearts in the glorious silent romance The Artist, he was starring opposite Albert Dupontel in the French crime-thriller Le Convoyeur. The movie centers on a man whose life is forever changed when stray gunfire from an armored car robbery kills his young son. The company that owns these tank-like vehicles has had two similar thefts occur within the past year. So, believing these must be an inside job, this mourning father gets a job there in hopes of finding the careless crooks, and avenging his son's death.
While the film drew praise in France, it had no impact in the U.S., but that's all about to change. THR reports Joel Silver's production company Silver Pictures has picked up the remake rights, and will make the movie—currently called Cash Truck—in conjunction with French production house/distributor Studio Canal, which is fully financing the film's development. An earlier incarnation of this project was once in the works at Paramount and Mu Image/Millennium with screenplay drafts from Andrew Kevin Walker (Se7en) and David Ayer (Training Day). However, Cash Truck's producers are currently seeking new writers, and its unclear if any of Walker or Ayer's work will be used.
Below you can check out a trailer for Le Convoyeur:
Le Convoyeur (opens in new tab)
It's fun to imagine Dujardin getting a second crack at this story, but it seems more likely Silver Pictures will push for an established action star, which makes sense. With movies like Die Hard, The Matrix, and the more recent blockbuster Sherlock Holmes: A Game of Shadows to its credit, Silver Pictures has a way with action movies. And this premise seems the kind of thing that would lend itself to a slick treatment like Silver's previous collaboration with Studio Canal, the Liam Neeson vehicle Unknown. But the first order of business shouldn't be finding a screenwriter or bothering about who will headline. It should be changing the title. "Cash Truck" is laughably bad.
Staff writer at CinemaBlend.
Your Daily Blend of Entertainment News
Thank you for signing up to CinemaBlend. You will receive a verification email shortly.
There was a problem. Please refresh the page and try again.