Jeffrey Katzenberg Predicts Major Changes To The Way You Watch Movies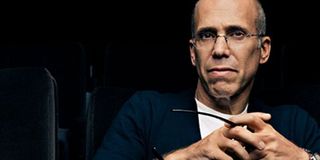 The evolution of digital media has radically shifted how audiences ingest movies and television. Buying DVDs has become old-fashioned in a world where clouds can hold all our online movie files. And theaters are now competing with streaming video libraries that offer scads of titles for less than a movie ticket. DreamWorks Animation chief Jeffrey Katzenberg has been watching all this unfold, and he believes there's an even bigger shift coming.
Variety reports Jeffrey Katzenberg was a guest speaker at the Beverly Hills' Milken Global Conference on the Entrepreneurial Leadership in the Corporate World panel. There he unfurled his belief that the next change in movie distribution will be dramatically shorter theatrical runs, and pay-per-inch VOD. He explained:
Katzenberg predicts we'll see this shift within 10 years.
It's a rattling thought. Right now, a theatrical run often depends on how well a movie is doing in theatres. A movie with a three-week run would be considered a problem in this environment. But if Jeffrey Katzenberg's figures are accurate, this model could be the way Hollywood shifts in hopes of cutting print and advertising costs considerably. However, there are the occasional movies that just continue to rake in major money beyond the three-week mark, and those examples might stall Katzenberg's cause.
Consider Disney's Frozen, a massive hit that broke a slew of box office records. The critically heralded musical opened wide on November 29th. With a $67 million opening, it became the No. 1 all-time Thanksgiving debut. The following week, it pulled in $31 million, then $22 million the next week. That's roughly $120 million domestic. That's not chump change, but for a movie that costs $150 million, it's not enough to make it a success. In the course of it's 23-week run, Frozen earned $400 million domestic, and another $743 million overseas for a grand total of $1.1 billion. This example might be one of the 2% of movies that break from Jeffrey Katzenberg's majority. Still, it's hard to imagine studies converting to a shorter theatrical run that could leave that kind of money on the table.
To look at a more recent, and still-emerging example, Captain America: The Winter Soldier made an impressive $95 mil its opening weekend. The next two weeks brought in $41 mil, then $25 mil. If Jeffrey Katzenberg's proposed three-week theatrical run were in effect now, Buena Vista could have conceivably missed out on the $16 mil Cap 2 took in this past weekend.
Of course, if moviegoers knew a film would only be playing for three weeks, there might be an increased urgency to see it in theaters that might bolster the first three weeks' numbers. On the other hand, if movies would play for just 17 days then hit the web in a pay-per-inch setup as Jeffrey Katzenberg suggests, causal movie fans might just wait it out, hurting box office totals.
Worse yet, a smaller window for theatrical releases might mean studios scaling back considerably on budgets. While a big budget doesn't guarantee a great film, a smaller one offers lots of additional obstacles for filmmakers. But that might be the way we're headed as Katzenberg insists, "Movies are not a growth business." To that end, DreamWorks is diversifying with short form content on television and digital platforms.
This poll is no longer available.
Your Daily Blend of Entertainment News
Staff writer at CinemaBlend.