Jeremy Renner Gives Details On Steve McQueen Biopic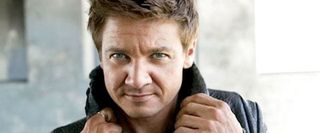 From Mission Impossible: Ghost Protocol to The Avengers and The Bourne Legacy, Jeremy Renner is poised to be the next major thing in action features. While his role in the latest Bourne movie overtly sets up the possibility of a new franchise branch with him at the center, his brooding charisma and deft physicality not only makes him seem the obvious heir to the Mission Impossible franchise but also spurred audience outcry for a Hawkeye-Black Widow spin-off feature. It's little wonder then that this man of action is angling to play iconic '60s action star Steve McQueen.
In his short time as a star, Renner has already developed a niche that we felt earned its own scale that accounts for a role's brains, quick thinking, strength, weapons and above all attitude. But one element we didn't call into account is Renner's desire to be daring, to be challenged. In 2011, the actor turned producer, forming the production company The Combie to better forge his own path in Hollywood. And chief among the projects on he and producing partner Don Handfield's development slate is a biopic of The King of Cool loosely based on Marshall Terrill's biography Steve McQueen: Portrait of an American Rebel.
While promoting The Bourne Legacy in New Zealand, Renner offered some new details on the project, and spoke about his concerns in portraying The Great Escape star, telling NZ City:
Renner went on to explain than rather than attempting to capture the entirety of McQueen's life, screenwriter James Gray, the writer-director who most recently wrapped production on Lowlife which co-stars Renner, is currently pursuing a more "slice of life" approach. However, Renner warns, "We're still figuring it out," before adding, "I can't wait to jump into it."
There's no word on when this McQueen biopic might go into production. But it's worth looking forward to as Renner first drew notice and raised eyebrows with a biopic, specifically Dahmer where he played the serial killer who killed and ate his victims. Obviously, this will be a very different beast; but if anyone can capture the rakish appeal of Steve McQueen, it's Jeremy Renner.
Your Daily Blend of Entertainment News
Staff writer at CinemaBlend.