Jeremy Renner May Star In Peter Berg's Battleship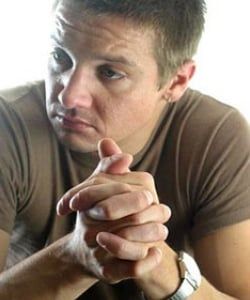 If you're one of the few Americans who actually got around to seeing The Hurt Locker, you're thrilled that Jeremy Renner scored a Best Actor Oscar nomination for the film, and are dying to see what he does next. If you haven't seen Renner's remarkable performance yet, you're in for two treats-- first when you actualy see the movie, and then when Renner shows up in every other movie you're planning to see over the next few years.
Yes, Renner is following that classic path of the surprise Oscar nominee-- suddenly fielding way more offers than he probably knows what to do with. The New York Times (via The Playlist) mentioned in passing recently that Renner is in talks to play the lead in Peter Berg's Battleship, and he'll also star alongside Ewan McGregor in Raven, a period thriller about Edgar Allan Poe.
The only thing standing between Renner and Battleship is another unnamed project, which has brought Renner in for five meetings, but will have the same summer shooting schedule as Berg's film. I welcome you all to speculate about this mystery project, though given Renner's virtually limitless options and taste in indies, the film could be pretty much anything. If you want to go ahead and assume it's Captain America, though, feel free.
Your Daily Blend of Entertainment News
Staff Writer at CinemaBlend