Jesse Ventura Still Hates American Sniper's Main Character, Obviously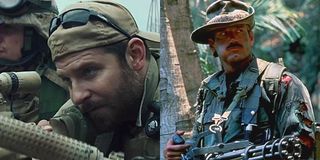 Box-office juggernaut, American Sniper continues to be a politically divisive hot potato of a topic. However, there's still one person out there for whom the film's controversy is actually personal. Former Minnesota Governor, Jesse Ventura, who, last summer, won a libel lawsuit against the estate of the American Sniper himself, Chris Kyle (played by Bradley Cooper), is still not quite ready to bury the hatchet with the late real-life protagonist and will apparently not see the movie.
Reportedly, the former actor and pro-wrestler is still out there in full feud mode regarding the subject of Kyle, seemingly promoting a WrestleMania match that we'll never get to see.
Well, shit just got real! Ventura would further dismiss the film's perceived implications about the Iraq War, adding, in possibly a back-handed remark to director, Clint Eastwood, "It's as authentic as Dirty Harry."
Ventura, himself a former Navy SEAL before his days in the squared circle, in front of the film camera or the Governor's mansion, felt that his honor was besmirched in Kyle's 2012 book, American Sniper: The Autobiography of the Most Lethal Sniper in U.S. Military History. The 37-week New York Times bestseller originally contained a passage depicting a 2006 incident in a California bar claiming Ventura verbally disrespected SEALs, inciting Kyle to punch him out. The passage would cause Ventura to, in a widely-publicized and controversial move, sue the estate of Kyle, overseen by his widow, Taya (played by Sienna Miller) for an initial damages claim of $5 to $15 million. At the end of last July, the Minnesota jury, not completely unanimous in its decision, would award Ventura $1.8 million and publisher, HarperCollins removed the piece in question.
No stranger to other, non-American Sniper controversies, the former "Body," Ventura is currently embracing his role as a go-to personality for all things conspiracies. (Notably about 9/11.) He's hung up both his spandex and his Brooks Brothers suits, currently residing in Mexico, where he hosts an Internet-based show called, appropriately enough, Off the Grid, where he continues to discuss the issues of the day in an unmistakably Jesse Ventura way. However, controversies about the film aside, his continuing vendetta with the late Kyle, who was killed in a 2013 shooting range incident from a traumatized veteran he was allegedly trying to help, seems to be pushing a seemingly petty beef well past its expiration date. It might do him well to move on from the bitterness and be the guy that "ain't got time to bleed" like his Predator character, Blain. Just see the movie and, in the very least, appreciate it as work of quasi-reality. —Which is pretty much what ANY supposedly biographical film churned out by Hollywood should be considered.
American Sniper, much to the chagrin of its detractors, is currently dominating the box-office, coldly, calculatingly waiting atop the nest of the charts with (as of today), a $257.1 million global take. (Most of which, understandably, is from domestic.)
Your Daily Blend of Entertainment News