Sienna Miller Lands Female Lead In Clint Eastwood's American Sniper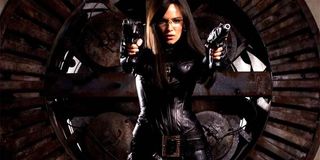 Shaping up to be one of the most anticipated films of the next few years is American Sniper. Bradley Cooper is starring as the prolific Craig Kyle, a Navy SEAL sniper with the most confirmed kills in history. As you can expect, this puts him in danger every time out, which is where director Clint Eastwood comes in, taking over for the departed Steven Spielberg. And now Cooper's got a leading lady to play against.
The Wrap reports that Sienna Miller is attached to play Kyle's wife, who has to stay home and raise the kids and keep the family safe while Kyle is overseas running missions. Apparently it was a hotly contested part, with the trades actually revealing that the second choice for the role was Jaimie Alexander, best known to genre fans as Sif in the Thor movies. Miller's got the edge on experience, with a decade of medium to high profile roles on her resume. Though you can see how Eastwood reportedly deliberated for an entire week between the two of them, as Alexander is an actress with considerable presence very much in line for her big breakout.
A third, younger candidate for the part was Kate Mara, though her availability changed when she landed the more lucrative part of the Invisible Woman in The Fantastic Four. Previously, Spielberg sought Evangeline Lilly for the part, though once Spielberg dropped out, things changed. Lilly will now spend the next year in Marvel's sandbox in Ant-Man. Basically, the one actress who isn't a superhero got the role.
Miller was an in-demand actress a decade ago when she burst upon the scene in Layer Cake and Alfie, and to be inside that moment was like a bomb going off. Was she good? Hard to say: the Alfie remake is such a nothing of a movie that when she walks in and steals Jude Law's heart (as she did in real life), the print catches fire. She tested herself in independent movies like Interview and The Mysteries of Pittsburgh, but a string of underperforming films kept her from achieving any sort of career momentum. By the time she showed up as a fairly-ideal Baroness in G.I. Joe: The Rise of Cobra, she had been labeled an actress who "missed."
Now, however, the 32 year old actress has never been hotter. In addition to the Eastwood role, Miller has a part in the hotly-anticipated Foxcatcher and Ryan Fleck and Anna Boden's Mississippi Grind. Miller was a tabloid magnet earlier in her career, but now it seems as if the actress will start to be recognized for her body of work.
Your Daily Blend of Entertainment News
Thank you for signing up to CinemaBlend. You will receive a verification email shortly.
There was a problem. Please refresh the page and try again.