Jessica Alba Addresses Anti-Screenwriter Comments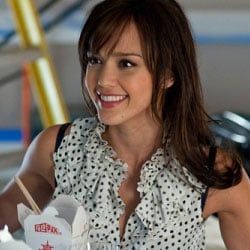 Just last month, Jessica Alba rubbed screenwriter John August the wrong way. August, whose resume includes Charlie's Angels, Corpse Bride, the new Frankenweenie and more, wasn't happy with what Alba said to Elle about film scripts. She told the magazine "Good actors never use the script unless it's amazing writing. All the good actors I've worked with, they all say whatever they want to say," and August fired back on his blog to defend his fellow writers and denounce Alba's comments. To Alba, August said, "Following your logic, you've never been in a movie with both good actors and amazing writing," and accused her of setting "dangerous expectations" for aspiring actors in suggesting they should say whatever they want to say.
While promoting Little Fockers, Alba seized the opportunity to clear the air about this issue. When asked about her comments, she began by firmly stating, "That wasn't true." She went on to say, "Just so it's clear, films don't even get made and nothing ever gets a green light unless there's great material," and added, "that's always a #1 thing before you can get a director, actors or a studio even interested in anything."
From there, Alba pointed a finger at Elle. "There was an article written recently where I was completely and totally paraphrased and things were taken out of context and mushed together," Alba explained. "It was a four-hour interview that got condensed into a page and a half for a fashion magazine." She went on to cite her own difficulty adlibbing to exemplify the importance of good writing. "When I was doing my first job where I was talking to dolphins in The New Adventures of Flipper when I was 13 – it was a fake dolphin, we had a great relationship [laughs] - when he would go off script, the dolphin, I didn't know how to," she joked. "He would squeak and I couldn't squeak back. It took me like 15 years to learn to do that - and lots of therapy." All joking aside, Alba wrapped things up by explaining, "Basically I was saying that I didn't have the courage and didn't really understand how to bring my own thing to the table and I would never veer away from the script, ever, no matter what. Even when actors would go off book, I didn't know what to say."
It's quite clear to see what Alba was attempting to get at with this response; she was referring to her trouble with adlibbing, but the magazine assembled her statements in a manner that suggested she thought scripts are useless. While Alba's original intentions may have been to express this feeling in the first place, it's hard to imagine that quote as being constructed from bits taken out of context. Perhaps the two sentences were sewn together from different parts of the interview, but if that's how that first sentence came to be, it's Elle that has the major issue, not Alba.
Staff Writer for CinemaBlend.
Your Daily Blend of Entertainment News
Thank you for signing up to CinemaBlend. You will receive a verification email shortly.
There was a problem. Please refresh the page and try again.