Jessica Biel Passes On Wonder Woman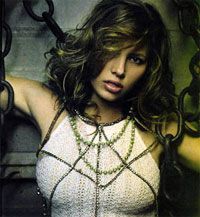 Tuesday we brought you the news that Jessica Biel was in talks to take on the role of Wonder Woman in the upcoming superhero team-up movie Justice League of America. Well it's Friday, and those talks are over.
EW says Biel has passed on the part of Wonder Woman down, which means we'll have six more weeks of winter, or at least six more weeks of Wonder Woman casting rumors. No reason for her decision is given, just know any fetish fantasies you had about Jessica Biel tying you up with a golden lasso and forcing you to tell her all your dirty little secrets will now never come true.
So who's left in the rumor mill to take the part of JLA's Amazonian princess? Well there's still that Xena actress we told you about earlier in the week. Warner Brothers could end up going with someone like her, a total unknown. Katey Holmes has also been rumored to be in the running for the part as has Casino Royale Bond babe Eva Green.
Your Daily Blend of Entertainment News