Jimmy Fallon In Talks To Host Next Year's Oscars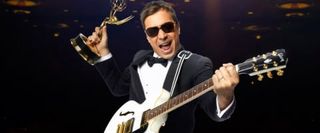 Huge, exciting news for fans of Oscar ceremonies that are fun to watch and don't take themselves too seriously. Word has it today that Jimmy Fallon, host of the infectiously energetic late night NBC show, is in talks to host next year's Academy Awards broadcast-- despite the fact that ABC, which airs the Oscars, doesn't exactly want to have a platform for a guy who hosts a show on a rival network.
According to The Los Angeles Times, which broke the news, Fallon would also come along with Saturday Night Live producer Lorne Michaels, who would produce the broadcast. The Academy is denying that these talks are taking place, but the Times has it on good authority that it is-- and you can imagine that the Academy wouldn't want to be breaking this news while ABC still isn't quite on board with it.
After last year's debacle with Brett Ratner and Eddie Murphy quitting as producer and host, to be replaced by a very bland and very safe Billy Crystal, it sounds like the Academy is once again angling for a young audience for the show. And while Fallon isn't as young as, say, Anne Hathaway and James Franco were when they hosted two years ago, his show very much appeals to a college-aged crowd, and his high-energy enthusiasm for nearly everything could bring both humor and a kind of reverence to the Oscars broadcast, which has always struggled with poking fun at Hollywood while also sucking up to the A-list talents in the room.
Fallon proved when he hosted the Emmys in 2010 that he can handle the pressure of a hosting gig, and put together a dynamite musical number too-- always something that helps at the Oscars. If ABC can work out their objections, Fallon seems like a perfect choice.
Staff Writer at CinemaBlend
Your Daily Blend of Entertainment News
Thank you for signing up to CinemaBlend. You will receive a verification email shortly.
There was a problem. Please refresh the page and try again.