Joe Pesci And Robert De Niro Reuniting In Uncharted: Drake's Fortune?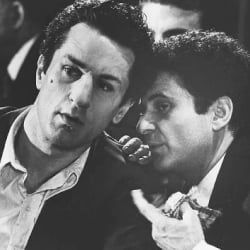 Every since the video game Uncharted: Drake's Fortune was pegged for a movie adaptation, fans of the game had told me over and over how well-suited the story is for an Indiana Jones-style adventure movie. So with all the elements already in place for a good story, why would somebody start from scratch in writing the screenplay? According to Showbiz 411, that's exactly what David O. Russell is doing as he prepares the film, and his new focus may leave room for the most bizarre of reunions: Robert De Niro and Joe Pesci, together again.
The actors starred together in five films, most notably Raging Bull and Goodfellas, but have spent the last few years either making embarrassing family films (oh god, Little Fockers) or scowling somewhere offscreen (Pesci's return in Love Ranch wasn't exactly triumphant). Showbiz 411 doesn't explain how they might fit into a movie about a global adventure, other than mentioning that the film may have something to do with New York antiquities dealers, and well, don't you want to see these two squabbling over the value of a Ming dynasty vase? Showbiz also mentions that Russell may bring in his The Fighter star Mark Wahlberg for a role, which I presume would be the lead character of Nathan Drake. I don't care how good he may be in The Fighter-- Wahlberg is really not screaming playful action hero to me, and I feel like those of you who actually saw Shooter will probably agree with me.
We haven't heard much detail about the project since Russell signed on to direct last month, which is no surprise given that he's totally wrapped up in getting The Fighter out in theaters. But expect the rumor mill to start churning at double speed once Russell starts doing press for the film. Hey, with Christopher Nolan finally getting The Dark Knight Rises casting taken care of, we need something else to get worked up over.
Staff Writer at CinemaBlend
Your Daily Blend of Entertainment News
Thank you for signing up to CinemaBlend. You will receive a verification email shortly.
There was a problem. Please refresh the page and try again.