Joe Wright Developing A Live-Action Little Mermaid Movie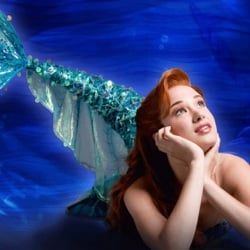 No matter how well you know the words to "Part Of Your World" and dream of your own head of flowing red hair, you know that Disney doesn't own The Little Mermaid, right? Yes they're responsible for Ariel and Flounder and Sebastian, but the story itself comes form Hans Christian Andersen, and is so old that it's within the public domain-- which means anyone can pitch their own take on it.
And that's exactly what Joe Wright and Working Title Films are doing, in a movie Disney probably wishes they'd made years ago. According to THR Wright is developing a live-action adaptation of the story, which will be the first ever done in the English language. Abi Morgan, of the small-scale drama Brick Lane, wrote the script, and there's no further word on exactly what her take on the story will be. Live-action mermaids are hard to pull off-- just ask Aquamarine-- but Wright has literally never made a bad movie, and that gives him a lot of faith in my book. His thriller film Hanna is set to hit theaters in April, and The Little Mermaid sounds like a huge shift in tone from that one-- which may be exactly what he's looking for. It will be weird to venture back under the sea without Ursula and King Triton, but the time seems right for another, Non-Disney take on the classic story.
Your Daily Blend of Entertainment News
Staff Writer at CinemaBlend