Join The #HUNGERGAMES100 Poster Puzzle Hunt To Unlock A Brand New Hunger Games Poster!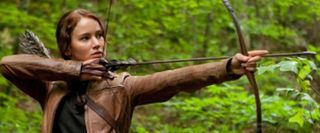 Attention Hunger Games fans! Are you ready to participate in one of the most elaborate viral marketing games you've ever seen? What kind of question is that-- of course you are! Today we are just one of 100 sites debuting a puzzle piece from the brand-new poster for The Hunger Games, and we're challenging you to collect all 100, put them all together, and post your completed poster image to The Hunger Games Facebook page. What's the occasion? Well, it's 100 days until the movie comes out-- and it's way more fun to count down to the arrival of Katniss and Peeta than counting down the days until Christmas, right?
Below you can see our piece of the puzzle, which is 57/100. To find the others, search twitter for the hashtag #HungerGames100 ; all of the other sites posting puzzle pieces will be tweeting their own image links, and from there you can print of all the puzzle pieces, put the whole thing together, and be the first to see the brand-new Hunger Games poster!
Either click on the image below to see piece 57/100 or click here to download your own copy of the image and get started! If you don't find the poster yourself, don't worry-- Lionsgate will be sending us the full version of the new poster as soon as the puzzle is solved on Facebook. The Hunger Games, of course, opens in theaters on March 23 next year.
May the odds be ever in your favor!
Staff Writer at CinemaBlend
Your Daily Blend of Entertainment News
Thank you for signing up to CinemaBlend. You will receive a verification email shortly.
There was a problem. Please refresh the page and try again.