Jonah Hill's The Sitter Coming To DVD In March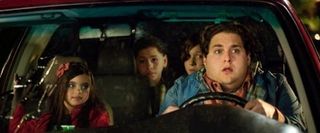 Despite Jonah Hill's steadily rising star, The Sitter didn't exactly set the box office on fire when it opened last month. It's currently grossed $30 million in the U.S., which isn't bad on a budget of around $10 million, but even Get Him to the Greek had nearly doubled that gross by the one-month mark. Maybe it was the overcrowded December release schedule, maybe it was the reviews, but not even the refreshing sight of old-school chubby Jonah Hill could bring in the crowds. Still, The Sitter is the sort of movie that usually does well in home video release, so expect it to gain a lot more eyeballs when it hits Blu-ray, DVD, and Digital Download on March 20th.
The Sitter tries to put a new, raunchy spin on the time-honored '80s "babysitter comedy," following in the footsteps of movies like Adventures in Babysitting and Don't Tell Mom the Babysitter's Dead. Hill plays a suspended college student who agrees to babysit the next-door neighbor's kids. His plans change when his girlfriend decides that's the night she finally wants to have sex with him. He drags the kids along on his quest to hook up with her, but soon finds himself embroiled on the run from a drug dealer.
As is SOP with comedy releases these days, Fox will be putting The Sitter out as an unrated "Totally Irresponsible Edition." Based on the press release it looks like you'll have to spring for the Blu-ray if you want any bonus features. Here's the rundown:
The Sitter: Totally Irresponsible Edition Blu-Ray Special Features
The "Totally Irresponsible" unrated edition
Noah Goes Downtown -- Extended
Noah and Slater Talk About Twins -- Extended
Getting the Minivan -- Extended
Karl's Back Room -- Extended
Karl Hugs It Out -- Deleted
Kids on the Curb -- Deleted
Meeting Karl in Chinatown -- Extended
Noah Calls Stephanie -- Deleted
Brooklyn Party Scenes -- Deleted
Alternate Ending: Carousel Fight
Gag Reel
"Totally Irresponsible" outtakes
"For Your Consideration" with Blythe featurette
"The Making of The Sitter" featurette
"Jonah the Producer" featurette
Your Daily Blend of Entertainment News
Your Daily Blend of Entertainment News
Thank you for signing up to CinemaBlend. You will receive a verification email shortly.
There was a problem. Please refresh the page and try again.