Joseph Gordon-Levitt Closes Deal For The Dark Knight Rises, Juno Temple Also Up For Role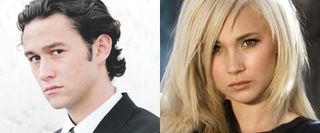 One bit of The Dark Knight Rises news you were expecting, and another bit you weren't. Variety is reporting that not only has Joseph Gordon-Levitt closed a deal to take a role in the third Batman film, reuniting him with Inception director Christopher Nolan, but that Juno Temple is being considered for a supporting role as a "street-smart Gotham girl," though no deal has yet been closed.
Gordon-Levitt has been rumored for a role in the film for months now, with the latest speculation that he'd play a member of the League Shadows. Variety floats the likelihood of that role as well, though they also seem to have no idea who he'll actually play. As for Temple, her part is likely not one featured in the comics, though given how crowded the film already is with female villains-- Anne Hathaway and Marion Cotillard are both on board-- there's probably not room for another one anyway. Temple is far less well-known, particularly to Nolan fans, than Gordon-Levitt, though you've probably caught her in supporting roles in Atonement, Year One, Greenberg or Gregg Araki's Kaboom.
We'll be anxiously awaiting official confirmation from Nolan's people, since that might also come with details on who Gordon-Levitt will play. In the meantime share your own speculation in the comments.
Your Daily Blend of Entertainment News
Staff Writer at CinemaBlend