Joseph Gordon-Levitt Tackles Porn Addiction, Beds Scarlett Johansson in SXSW's Don Jon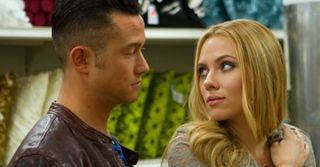 Is there a proper time of day to watch a movie? The answer probably comes on a case-by-case basis, but I can confirm that 8 a.m. is an odd time for anyone to watch Don Jon, if only for the sheer amount of hardcore, graphic sex that streams across the scene. Pause the pornography and pass the donuts, please.
The sex is a necessary component to Joseph Gordon-Levitt's powerful directorial debut, which premiered at the South By Southwest film festival Monday evening after a stop in Sundance and an unfortunate title change. I say "unfortunate" because JGL -- who wrote, directed and starred in this offbeat romantic dramedy – scrubbed the word "addiction" from his title, and it's the compulsive nature of his lothario protagonist that gives Don Jon its compelling edge.
Jon (Gordon-Levitt) is addicted to online porn. It consumes his daily life, though he sees nothing abnormal about his behavior. Jon's days are spent in the service industry. His evenings are spent in hot nightclubs with this New Jersey bros, ranking women on a 1-10 scale and fighting to bring home "dimes," or perfect tens. His addiction – or the desensitivity caused by his addiction – stands in the way of a "normal" relationship with a blonde beauty he picks up one night named Barbara (Scarlett Johansson, fully embracing her innate sexuality). Each has their own manipulative end game in play, and Don Jon surprises as it plays out the duo's relationship, which can't possibly have a happy ending.
The story of Don Jon will be its use of pornography to tell of Jon's predicament, and there are multiple discussions we can have regarding imagery in the media perverting the communal mind when it comes to sex, or Jon's mistaken belief that simply attending weekly confession will return him to the straight-and-narrow path toward righteousness and healing. Gordon-Levitt, himself, already is dealing with having to trim some of the on-screen nudity out of his finished film to help it earn an R rating.
The conversation, though, should be about Gordon-Levitt's strength as a first-time filmmaker, and the command of the voice he has over borderline-caricature characters who frequently come don't fall into the trappings of obvious stereotypes. Five years ago, before the phenomenon of MTV's Jersey Shore, that might not have been the case. But in a time where "GTL" and "DTF" are recognizable pop-culture terms, the goombahs played by Gordon-Levitt, Johansson and Tony Danza (who's outstanding as Jon's father, and the likely cause of the character's imbalances) are familiar, believable and, ultimately, embraceable.
Gordon-Levitt's style also reflects a student who has spent a lifetime on film sets absorbing techniques. If anything, he's guilty of trying too many tricks in Don Jon, though his edits are commanding and his use of music is exhilarating. Don Jon has attitude, conveyed as much through the solid performances as it is through the director's unflinching approach to some complicated subjects. Because I'm unwilling to spoil anything, I will say that I have problems with a third-act redemption in Don Jon involving Julianne Moore's character. It's as if Gordon-Levitt chases a happier ending his film doesn't earn. But the honesty and comprehension of character displayed in the first two-thirds of Don Jon thoroughly impressed me. I'm not shocked that Gordon-Levitt has announced his presence as an emerging filmmaker on the rise. If he can continue to coax gripping performances from capable cast members in the future, he'll have as successful a future behind the camera as he has had in front of one.
For more of our SXSW 2013 coverage, click HERE.
Sean O'Connell is a journalist and CinemaBlend's Managing Editor. He's frequently found on Twitter at @Sean_OConnell. ReelBlend cohost. A movie junkie who's Infatuated with comic-book films. Helped get the Snyder Cut released, then wrote a book about it.
Your Daily Blend of Entertainment News
Thank you for signing up to CinemaBlend. You will receive a verification email shortly.
There was a problem. Please refresh the page and try again.