Josh Brolin Confirms He Was In The Running For Batman, But Wouldn't Want To Be Ben Affleck Right Now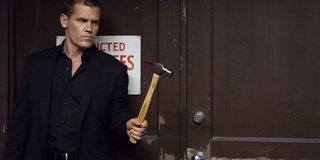 A ton of actors were rumored for a while there to be next in line for Batman's cowl, but one of the most popular picks always seemed to be Josh Brolin, star of No Country for Old Men and this year's Gangster Squad who seems to have that world-weary Bruce Wayne thing going for him without even trying. "Josh Brolin would be EPIC as Bruce Wayne/Batman" was just one of the comments when we rounded up the casting rumors. Of course, as you know by now, Ben Affleck swooped in and got the part. So how does former frontrunner Josh Brolin feel about the casting?
"I feel for him, truly. I would not want to be him right now," Brolin told The Huffington Post when asked about the crazy backlash that met Affleck's casting. "Because of the Internet, man, I just feel for anybody who gets lambasted at that level. I want him to kick ass and I want everyone to love it and kind of eat their words."
As magnanimous as he's being, though, Brolin confirmed that he was indeed in the running, though he makes it sound like it was more about Snyder gauging his interest than any lengthy conversations about the character. "I didn't have conversations about it, but Zack, that was part of his idea. It just didn't turn out. It's OK. It is OK. You know, another scenario might have worked better, but I'm happy for Ben."
As diplomatic as Brolin is being, an admission like this is rare-- you almost never see actors talk about the roles they didn't get, or admit they were even in the running. It probably helps that it doesn't seem that Brolin passed on the part; more likely they were eyeing both Brolin and Affleck at the same time, and when Affleck seemed game for the role, they went with the more famous name. Brolin, for all the strong performances he's given in everything from W. to the current Toronto Film Festival offering Labor Day, has yet to become as famous as he deserves to be. I would have thought that would have given him an edge in the Batman casting, making him less likely to overshadow the famous role he's taking. But the move toward Batfleck apparently means a very famous Batman is not a problem.
Batman vs. Superman, which we're keeping a close eye on, is set to come to theaters in 2015. Meanwhile you can see Brolin much sooner than that, both in the Christmas release of Labor Day and in Spike Lee's remake of Oldboy, which comes to theaters November 27, Check out that film's trailer below.
Your Daily Blend of Entertainment News
Staff Writer at CinemaBlend