Josh Hamilton And Dakota Goyo Added To Supernatural Thriller Dark Skies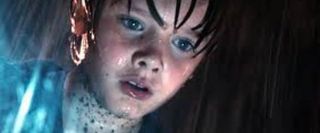 Dark Skies is an upcoming supernatural thriller written and directed by Scott Stewart, whose feature credits include Priest and Legion, and produced by Blumhouse, the company famous for making widely released but cheap and high-quality horror films like the Paranormal Activity movies, Insidious and this summer's Sinister. The visual effects man turned director seems like a great match for the micro-budget production house and he's been assembling a solid cast for Dark Skies though for some reason there's no room yet for Paul Bettany, who starred in both Priest and Legion. Cameo?
Anyway, Variety reports that Josh Hamilton (not the baseball player) has been cast opposite Keri Russell, who is always awesome, in Dark Skies, the thriller that has nothing to do with the 90s sci-fi series of the same name starring. Hamilton has a slew of pics in post, including Something in the Water with Melissa Leo and The Stare with James Franco but, to me, he'll always be the guy in Alive and With Honors.
Blumhouse Productions confirmed Hamilton's casting via twitter while also announcing the addition of young and rapidly rising star Dakota Goyo, who will play a boy tagged for abduction by an alien hiding as a homosapien. That's pretty much all the plot details so far, the production company doesn't even mention whether Russell or/and Hamilton will be his parent/s but that'd be my bet. Goyo recently played Hugh Jackman's son in Real Steel and the young Prince of Asgard in Thor but the biggest get in his young career has to come with the recent news that he's boarding Noah for Darren Aronofsky. Dark Skies is set to begin production on August 3.
Your Daily Blend of Entertainment News
Thank you for signing up to CinemaBlend. You will receive a verification email shortly.
There was a problem. Please refresh the page and try again.