Juno Temple And Evan Peters Front Truck Stop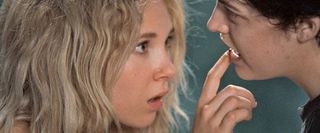 2012 is shaping up to be a watershed moment for British ingénue Juno Temple. The Dirty Girl star will not only appear in the much-buzzed about, celeb-stuffed biopic Lovelace, which centers on the tragic tale of America's first porn icon Linda Lovelace, but also the hotly anticipated finale to Christopher Nolan's Batman trilogy The Dark Knight Rises. Still, Temple is committed to the continue challenging herself by tackling roles in daring indie efforts.
Deadline reports that Temple has signed on to star opposite Evan Peters (American Horror Story, Kick-Ass) in the 1970′s-set coming-of-age drama Truck Stop. Writer turned writer-director Tony Aloupis (Sugar) will make his directorial debut on the feature that centers on the friendship that evolves between a high schooler suffering from cerebral Palsy (Peters) and an edgy runaway with a troubled past (Temple). Soon to shoot in Los Angeles, the drama will give each of the young actors the opportunity to show what they can do outside of the supporting arena.
Peters is currently shooting Adult World, where he has a supporting part opposite another dazzling ingénue, Emma Roberts. While casting reports have revealed his character's name—Manny—no efforts been made to explain how he figures into the plot of an aspiring poetess who believes she's destined for greatness, but is currently working a survival job at an adult book store.
For her part, Temple could soon be the talk of the Tribeca Film Festival, as one of half of the genre-blending drama Jack and Diane. Here she plays the bubbly Diane to Riley Keough's gruff Jack. Together they weave a tale of Sapphic summer love and possible lycanthropic tendencies.
Staff writer at CinemaBlend.
Your Daily Blend of Entertainment News
Thank you for signing up to CinemaBlend. You will receive a verification email shortly.
There was a problem. Please refresh the page and try again.