Jupiter Ascending And Joe Wright's Pan Get New Release Dates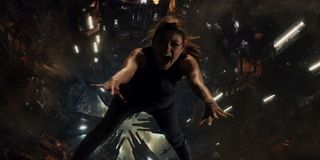 Can you hear that? It's not the sound of jingle bells but the sound of release dates falling into place! Cha-ching! The latest titles to join in the dance of new release dates are Andy and Lana Wachowski's Jupiter Ascending and Joe Wright's Pan. Box Office Mojo notes the sci-fi epic fronted by Mila Kunis and Channing Tatum has shifted from its slot July 25th, 2014 forward a week to July 18th, 2014. As for Wright's take on Peter Pan, that's been set down for June 26th, 2015.
Following-up their ambitious Cloud Atlas, the Wachowski siblings have ventured to the wider universe for Jupiter Ascending. This universe is one where humans are considered to be near the very bottom of the evolutionary ladder - and yet a lowly human maid named Jupiter (Kunis) is thought to be a threat to the Queen of the Universe. This marks Jupiter for execution, but not if an extraterrestrial warrior named Caine (Tatum) has anything to say about it. In case you somehow missed its trailer drop earlier this week, check it out below:
In its old spot, Jupiter Ascending would have been facing off against Bret Ratner's Hercules, (not to be confused with the Kellan Lutz Hercules movie). It seems that Warner Bros is clearing a path for what will likely be a dominating force that weekend. Fronted by Dwayne 'The Rock' Johnson , Hercules may as well have a license to print money. After all, Johnson has proved a box office behemoth this year. With a steady line-up of successful films, his 2013 releases crossed the billion-dollar mark in June. Since White House Down crumbled, the chink in Tatum's star power armor has shown, so best shuffle forward a week.
On July 18th, there's far less competition. And by that I mean Planes: Fire & Rescue, a sequel to a spin-off of a lesser-renowned Pixar movie. The only thing Jupiter Ascending has to fear here is being overshadowed by the previous week's releases: Dawn of the Planet of the Apes and (for now anyway) Fast & Furious 7. The former could well snatch up audience members craving sci-fi. Plus, its predecessor Rise of the Planet of the Apes swept its opening weekend in the summer of 2011 to the tune of $54 million dollars, trouncing The Smurfs ($20 mil) and Cowboys and Aliens ($15 mil). And of course the Fast and Furious franchise has become a global phenomenon. Fast & Furious 6 pulled in a whopping $788 million worldwide by the end of its run.
As for Pan, this update seems to confirm that Wright, who entered into negotiations last month, is set to helm. Penned by Ice Age: Continental Drift's Jason Fuchs, this adventure will serve as an origin story for Peter Pan. But Warner Bros has so far been tight-lipped on which of his fellow Neverland neighbors will make appearances. From here, it'll be interesting to see who Wright brings in to play Peter, and whether or not he makes room for his recurring leading lady Keira Knightley, whose served him well in Atonement, Pride & Prejudice, and Anna Karenina.
Staff writer at CinemaBlend.
Your Daily Blend of Entertainment News
Thank you for signing up to CinemaBlend. You will receive a verification email shortly.
There was a problem. Please refresh the page and try again.