Jurassic World Set Photo Teases Bloody Carnage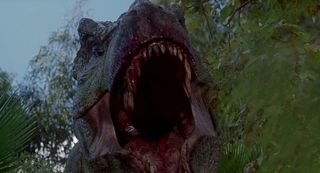 While there are many funny, fun and spectacle-filled moments in Jurassic Park movies that are appropriate for audiences of all ages, that can't be said for the films in their entirety. Dinosaurs - especially species like Velociraptors and the Tyrannosaurus Rex - are extremely dangerous creatures, and the franchise have shown us time and time again that when they meet humans, there is carnage to be had. We shouldn't expect any less from the upcoming Jurassic World, and this brand new image from the set proves just that.
As you can see from the embed, the photograph comes to us from director Colin Trevorrow's official Twitter account, which has been quite busy ever since production began on Jurassic World. Obviously they're in the midst of filming a sequence of the movie set after things have started to go terribly, terribly wrong. I'm assuming the chaos all begins with a dinosaur/many dinosaurs/all the dinosaurs escaping from their cages, but it will be interesting to see exactly what drives the story to that point and how the simple plot device is handled creatively.
Strangely, this isn't the first time that Trevorrow has teased the veterinary unit of Jurassic World. Last month he posted an image that was simply a patch on a hat - but it identified a character who is charged with making sure the park's attractions stay healthy:
So what's the deal here? The director has previously revealed that Jurassic World star Chris Pratt (soon to be seen in Marvel's Guardians of the Galaxy) is playing a scientist who is doing behavioral research on Velociraptors. Does that job description have him fall under the purview of the veterinary unit? Hopefully that's not his character's bloody hand print on the side of that van.
In addition to Pratt, Jurassic World also co-stars Bryce Dallas Howard, Judy Greer, Jake Johnson, Vincent D'Onofrio, Nick Robinson, Irrfan Khan, Ty Simpkins, BD Wong, and Omar Sy. The script, written by Colin Trevorrow and Pat Crowley, is set 30 years after the first movie in the series, but rather than being a story about someone once again trying to build a park, the new sequel starts with Jurassic Park being a sustainable hit. Of course, ti doesn't stay that way for too long. The film likely as a couple more weeks of shooting before heading into post-production to wrap up all of the visual effects and get the feature finished before the June 12, 2015 release date.
NJ native who calls LA home; lives in a Dreamatorium. A decade-plus CinemaBlend veteran; endlessly enthusiastic about the career he's dreamt of since seventh grade.
Your Daily Blend of Entertainment News
Thank you for signing up to CinemaBlend. You will receive a verification email shortly.
There was a problem. Please refresh the page and try again.