Just How Badly Did Benedict Cumberbatch's The Fifth Estate Do At The Box Office?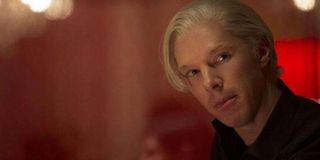 Benedict Cumberbatch is a beloved Internet presence and fantastic interview, and he's about to make geek dreams come true by playing a dragon in a certain upcoming movie. But man, does he have a long way to go before proving he's an actually movie star.
Cumberbatch doesn't get all the blame for the complete failure of The Fifth Estate this weekend, but it's his face on all the posters and his name doing most of the promoting, so this past weekend must have hurt. According to the numbers at Entertainment Weekly it will make just $1.7 million for the weekend, making it the smallest box office for a movie opening on more than 1,5000 screens this entire year. Look at it this way-- the abysmal Harrison Ford thriller Paranoia, which you've already forgotten existed, made more than that on its opening weekend. The 3D re-release of Top Gun opened to more than that, and on only 300 screens (The Fifth Estate had 1.769). The Ashton Kutcher Steve Jobs movie made more than that. I mean, really.
And it's not for lack of trying that The Fifth Estate sank like a stone-- it was the flashy opening night film at this year's Toronto Film Festival, and then was at the center of what seemed like a zillion TV ads for the month after that. Who didn't hear Cumberbatch say "This is information the world needs to knoooow" a zillion times while they were innocently minding their own business in their own home? With a hot-button subject like Julian Assange, who was even protesting the movie's existence and handing it more publicity in the process, the film should have at least been able to draw in political junkies. But it ultimately barely did better than Alex Gibney's far superior documentary about Assange, We Steal Secrets: The Story of WIkileaks, which grossed $166,000 in its release earlier this year. OK, that's nearly 10 times less than what The Fifth Estate did… but when we're talking documentaries versus biopics featuring movie stars, that's a huge difference.
If you saw The Fifth Estate this weekend, please tell us that you made up your own mind and tell us what you thought in the comments. If not-- and odds are you didn't-- here's the trailer to remind you what all the fuss is about.
Staff Writer at CinemaBlend