12 Fascinating Things We Learned About Benedict Cumberbatch From His AMA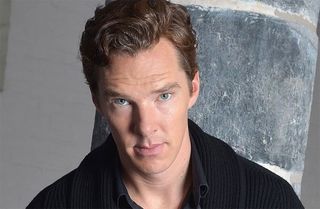 Benedict Cumberbatch might not be the world's best actor or the world's highest paid one, but thanks to a string of very well received performances and his work on the brilliant Sherlock, it's quite possible he's the most buzzed about thespian. As such, it's not surprising he would spend his time tackling one of the most controversial personalities of the moment, Wikileaks founder Julian Assange. The film, The Fifth Estate, received a lukewarm reception at the Toronto International Film Festival, and it will be released theatrically in the United States on October 18.
To publicize the big event, Cumberbatch decided to stop by Reddit today to participate in one of the increasingly popular Ask Me Anything sessions, and while he didn't throw out a lot of bombshells, he did take the gloves off and honest what was thrown at him honestly and openly. If you didn't have time to follow along or just can't handle the complicated format of Reddit, I've gone ahead and included his most fascinating answers below…
Cumberbatch really likes comedy and is interested in doing more of it in the future. He thinks much of the success of Sherlock is related to its comedic sensibilities, but someday, he would like to play a "normal guy" in a "normal comedy". Also, he credits co-star Martin Freeman for learning a lot about timing.
He was taken aback by Julian Assange's open letter, but in a way, it made him more determined to do The Fifth Estate. "To have the man you are about to portray ask you intelligently and politely not to do it gave me real cause for concern, however, it galvanized me into addressing why I was doing this movie. He accuses me of being a "hired gun" as if I am an easily bought cypher for right wing propaganda. Not only do I NOT operate in a moral vacuum but this was not a pay day for me at all. I've worked far less hard for more financial reward. This project was important to me because of the integrity I wanted to bring to provocative difficult but ultimately timely and a truly important figure of our modern times."
Cumberbatch has a high opinion of television. He is firmly convinced the medium is now on par with movies, and there is "no debate" as to whether the boob tube is still trailing behind its more frequently praised older sibling. Fittingly, he's partially responsible for that mentality change alongside brilliant actors like James Gandolfini and Bryan Cranston.
He gets starstruck meeting other celebrities all the time. "Every time I've met someone famous who I've been in the audience of. I have the same butterflies and inability to be cool. I approach them as a fellow member of the human race as the next person in their audience does. I've been doing this for 10 odd years, and so to meet people who thrilled me with their work for my entire life in such a concentrated manner as has happened over the last few years has been mind-blowing."
He Had An Odd Encounter With Ted Danson. Cumberbatch was inside a party with a slew of famous people when he looked over and saw Ted Danson pushing past Leonardo DiCaprio, Ray Liotta, Kirsten Dunst, Kristen Stewart and more huge celebrities while knocking over drinks and screaming, "Oh my God! Oh my God! It's fucking Sherlock Holmes!"
Other random Cumberbatch facts...
Muppet He'd Like To Share A Scene With: Animal
Favorite Childhood Memory: Blue sky above his parents' flat.
Fictional Character He'd Like To Play: Patrick Melrose in Edward St. Aubyn
Favorite Comfort Movies: Ghostbusters, Annie Hall, 2001 A Space Odyssey and "loads of John Hughes classics".
Favorite Places He's Visited: An untouched New Zealand glacier, Namibia after a skydiving jump and a warm South African balcony after he was carjacked.
Things He Loves: Whisky, fire, a good book, cooking, running.
Songs He Can't Get Enough Of: "MS" by Alt-J, "Strong" by London Grammar, "One Day Like This" by Elbow, "Fever To The Form" by Nick Mulvey, "Two Fingers" by Jake Bugg and all of Sigur Ros' Valtari album.
To read the AMA in its entirety, you can head on over to the Reddit thread here
Enthusiastic about Clue, case-of-the-week mysteries, the NBA and cookies at Disney World. Less enthusiastic about the pricing structure of cable, loud noises and Tuesdays.
Your Daily Blend of Entertainment News
Thank you for signing up to CinemaBlend. You will receive a verification email shortly.
There was a problem. Please refresh the page and try again.