Karate Kid 2 Loses Its Director, But Gains New Writers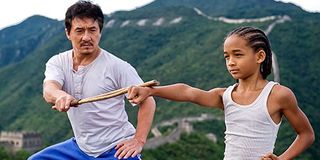 Just a couple of months ago, Sony Pictures had secured The Crazies helmer Breck Eisner to direct Karate Kid 2, a vehicle that would give Jaden Smith a chance to redeem himself following the failure of After Earth. But now Eisner is gone, and producers are bringing in two new screenwriters to once again retool the sequel's script.
Deadline reports Breck Eisner has left Karate Kid 2 over scheduling conflicts. No mention is made of what project could be conflicting with the long-in-the-works sequel to the 2010 reboot. However, it's suggested that script troubles are to blame for the schedule shakeup. Cyrus Voris and Ethan Reiff were originally brought in to pen the pic, but this latest report reveals Sony has since hired Jeremiah Friedman and Nick Palmer to write a new version of the screenplay. The level of the rewrite is currently unknown. That said, if this is the cause of the schedule change, we can assume these revisions will be extensive.
Jeremiah Friedman and Nick Palmer have no produced feature screenplays to their credit, but they are serious up and comers. This is thanks in large part to the 2010 Black List, which included their action-comedy spec script Family Getaway. From that, the pair was picked to pen a remake of the Whitney Houston/Kevin Costner romance The Bodyguard. Family Getaway is currently being retooled by Harold and Kumar 3 director Todd Strauss-Schulson. Plus this drafting duo successfully sold a pitch for a Die Hard-like actioner called Speeding Bullet to Universal. Add to that the Karate Kid 2 gig, and everything's coming up Milhouse for Friedman and Palmer.
The same can't be said for Karate Kid 2. Considering the first of this rebooted franchise brought in $359 million worldwide, we can safely assume there is an audience for the sequel out there. Well, Sony did, greenlighting Karate Kid 2 within days of the first's rousing debut. Shortly thereafter they had hired Voris and Reiff, a smart selection as this twosome wrote Kung Fu Panda. But their take didn't seem to impress Sony, as they were off the project by 2012, replaced by Elektra and X-Men 2 scribe Zak Penn. How much of their drafts will make it into Karate Kid 2's shooting script is impossible to predict. But now it's up to two untested screenwriters to make sense of these past drafts, come up with something that will thrill audiences in the long run, and help Sony land a new director in the short.
All the while, Jaden Smith is aging out of his "kid" casting niche. Soon to be 16, he has reason to worry about Sony pulling this project together sooner than later.
Your Daily Blend of Entertainment News
Staff writer at CinemaBlend.