Karl Urban Claims Lionsgate Has Had Conversations About A Dredd Sequel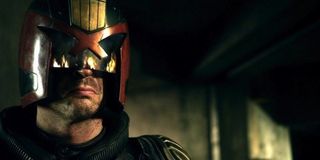 There's no shame in keeping the flame going, even if it seems like it's been snuffed out. Which is why fans continue to hope against hope that their beloved Judge Dredd will return to the big screen, preferably with Karl Urban behind the mask. 2012's Dredd only grossed $35 million worldwide, significantly below expectations, putting the kibosh on a planned onscreen relaunch of Mega City One's top cop. And yet, fans will bend over backwards to find a way to justify more, pointing to DVD sales, cable popularity and the continued affordability of Urban as reasons we could see a Dredd 2.
Urban seems like one of the industry's good guys, so he's not going to kill Dredd 2 right in front of our eyes, even as he continues to suit up for Fox's Almost Human. According to WhatCulture, while visiting the Destination Star Trek Convention in Germany (a Star Trek convention!), Urban spoke to those gathered in attendance and stubbornly pushed the idea of a sequel as a thing that could happen. Urban claimed that there were "conversations" with Lionsgate and the first film's writer Alex Garland about a potential follow-up to Dredd specifically because of the film's popularity on home formats.
It must be conveyed that expectations were not high for Dredd. The hopes were that it would do bang-up 3D business worldwide, but the budget was only $50 million, so no one expected a massive blockbuster. Still, the project underperformed severely, relegating the character to shorts, fan-films and petitions for the time being. You don't make a 3D picture so you can find your success on DVD, and the film pulled in a very weak $13 million in America. And maybe you should ask yourself: how many times have you actually sat down and watched Dredd since it was in theaters? Urban and Garland's enthusiasm for the character is admirable, but it's easy to bet that these "conversations" revolved around Lionsgate telling them they were interested in a much cheaper Dredd follow-up.
Solution: Dredd Vs. Dredd. Urban's Dredd finds out he has a clone, and it's another Judge Dredd, this one played by Sylvester Stallone. Urban wonders why Stallone keeps removing his helmet. Stallone chastises Urban for not scoring with anyone as fine as Diane Lane. They debate the virtues of Paul Leonard-Morgan versus Alan Silvestri. They have an "I Am The Law" shouting match. Writes itself, really.
Your Daily Blend of Entertainment News
Thank you for signing up to CinemaBlend. You will receive a verification email shortly.
There was a problem. Please refresh the page and try again.