Katherine Heigl May Time Travel For Love In Outlander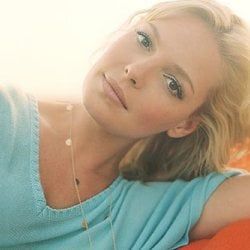 There has already been a movie called Outlander, starring Jim Caviezel as an alien landing on earth during the time of the Vikings. The first thing you should know about the potential Katherine Heigl project Outlander is that it is not a remake of the alien movie, but an entirely separate adaptation of a novel by Diana Gabaldon.
With that out of the way, here's what we know. The news comes by way of a New York Times article that's basically a damage control effort to tell us that Heigl is not the prissy, demanding diva she's been made out to be all these years. I'm not sure the article does such a great job of proving that-- one line of the article notes "Years of rejection on the Los Angeles auditioning circuit hardened her, friends and associates say"-- but it at least gives us the news that Heigl is considering starring in Outlander, which apparently she plans to shoot in Scotland in time for a 2012 release. Given that Heigl produced Life As We Know It, her new film out next Friday, it wouldn't surprise me if she knows the shooting schedule because she's producing that one as well.
So what is this Outlander? Published in the UK as Cross Stitch, the novel is the first in a series of time-traveling novels about a World War Ii- era nurse who travels back to 18th century Scotland and falls in love with a soldier fighting the English. In a weird twist she's also married in the 20th century, and apparently no one in the books has that big a problem with her being a bigamist. Sounds at least a little more interesting than your usual romance novels, but given that it will star Heigl, I know many of you have already dismissed it by now. We'll see how the production comes together-- there's no mention of a studio on board or other producers or anything like that-- and maybe get a better sense of what we're looking at here.
Your Daily Blend of Entertainment News
Staff Writer at CinemaBlend