Katherine McPhee's Playboy Bunny Comedy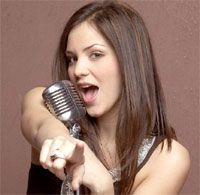 Katherine McPhee is the latest American Idol to shoot for a film career, because you know, it worked so well for Justin and Kelly. At least she has the good sense not to jump right into a solo starring role. She'll be paired with Anna Faris in an untitled comedy.
According to EW the no-named movie is being produced by Adam Sandler's Happy Madison, so somewhere out there Rob Schneider is probably circling.
This is the Anna Faris Playboy Bunny project we told you about here a few weeks ago. She plays a bunny who stumbles into joining a sorority after Hefner kicks her out of the mansion. Katherine McPhee will play one of those sorority girls. Even if the movie sucks, the inevitable Anna Faris/Katherine McPhee pillow fight makes this a must see.
Your Daily Blend of Entertainment News
Thank you for signing up to CinemaBlend. You will receive a verification email shortly.
There was a problem. Please refresh the page and try again.